By Noel Punzalan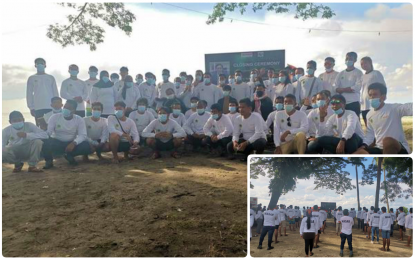 ---
COTABATO CITY: A total of 59 individuals, including five former members of the extremist Bangsamoro Islamic Freedom Fighters (BIFF), completed Monday a weeklong training for the Water Search and Rescue (WASAR) program of the Bangsamoro Autonomous Region in Muslim Mindanao (BARMM) government.
In an interview on Tuesday, Minister Naguib Sinarimbo of the Ministry of the Interior and Local Government–BARMM, said the WASAR training aims to equip volunteers with the capability to swiftly respond to flooding situations in the region, among other calamities.
"The volunteers are tasked to monitor floods and bridges' situation as well in the BARMM and undertake rescue operations when necessary during calamities," said Sinarimbo, who is also the concurrent regional spokesperson.
The training, he added, aimed to help teach the public about safety and disaster resilience on the ground in times of calamities.
The trainees — 53 male and 6 females — are responders from the municipalities of Northern Kabuntalan, Sultan Kudarat, Sultan sa Barongis, all in Maguindanao; Cotabato City's Barangay Rosary Heights 7; and personnel from Ministry of Social Services and Development-BARMM.
"The graduates will form part of the first responders from their respective communities," Sinarimbo, who is also director of the Rapid Emergency Action on Disaster Incidence (READi)–BARMM, said.
The WASAR program, which started in November 2019, has already trained 50 former members of the Moro Islamic Liberation Front coming from various parts of the region.
Sinarimbo said amidst the challenge of the pandemic, READi–BARMM would continue to conduct training as part of its mandate, to capacitate and prepare responders from the region.
"Our aim is for every responder, every family, and community to be always ready in times of crisis," he said.
The BARMM comprises the cities of Cotabato, Lamitan, and Marawi; the provinces of Maguindanao, Lanao del Sur, Sulu, Basilan, and Tawi-Tawi; and the 63 villages in six towns of North Cotabato.
Kaka Datu, one of the ex-BIFF members who participated in the training, said the activity made him realize that he can do many positive things for his community, which is better than waging a futile war against the government in the countryside.
"This training will help save many lives, including my family in cases of calamities," he said in the vernacular.
The WASAR training was conducted in partnership with the Army's 6th Infantry Division Training School in Barangay Semba, Datu Odin Sinsuat, Maguindanao. 
Philippine News Agency