By Nef Luczon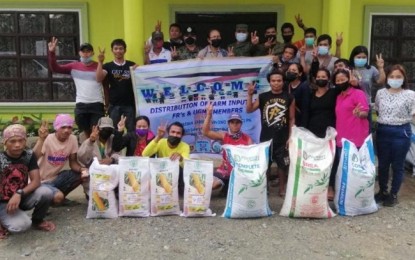 ---
CAGAYAN DE ORO CITY: Former rebels and members of communist organizations in Lanao del Norte and Bukidnon provinces have received livelihood programs through government initiatives.
On Tuesday, the 4th Mechanized Infantry Battalion (4Mech) based in Balo-i, Lanao del Norte initiated a vinegar production project for former rebels while their enrolment to the Enhanced Comprehensive Local Integration Program (E-CLIP) is under process.
Lt. Col. Rommel Pereña, 4Mech commanding officer, said they have enough resources to provide needed training while waiting for reimbursement from the E-CLIP, without affecting the battalion.
Pereña said the project is easier and quicker to produce and the return is also high.
"We thought of making turmeric tea, but it takes a longer time to produce. We have a friend who makes vinegar similar to the pinakurat of Iligan. We thought this is easy to teach and the earnings are also quite high," he said in a statement.
Pinakurat vinegar is made from coconut fragmented sap, also known as tuba, and blended with local chili labuyo.
Pereña said the ex-rebels would be under the Department of Trade and Industry and the Food and Drug Administration to institutionalize sukang kalasag (kalasag vinegar), hoping they will pursue the livelihood after their enrolment to the E-CLIP.
Other livelihood projects are hog raising through the Department of Labor and Employment, and dressmaking and knife making through the assistance of the Technical Education and Skills Development Authority.
Farm inputs in Bukidnon
Meanwhile, the Municipal Agriculture Office of Cabangalasan under the Department of Agriculture Region-10, together with the 88th Infantry Battalion, handed over farm inputs consisting of 14 bags of hybrid corn seeds and 98 sacks of fertilizer to 28 former members of underground mass organizations.
Dr. Anita Macabugto, Municipal Agriculturist Officer, said the beneficiaries can use the farm inputs for their livelihood and share additional knowledge on basic farming with their peers.
The recipients are mostly residents of Sitio Mainaga in Barangay Iba.
The community is one of the strongholds of communist rebels, where the Guerilla Front Malayag operates.
The Army described it as a geographically isolated and disadvantaged area where most of the residents are peasants and land issues are exploited by communist groups.
With the Community Support Program, 63 individuals who used to be sympathetic to communist rebels have surrendered in July. 
Philippine News Agency