By Nef Luczon and Divina Suson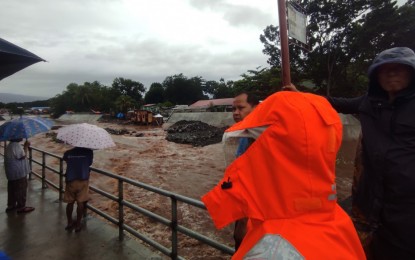 ---
CAGAYAN DE ORO CITY : Local government units (LGUs) in Northern Mindanao have activated their disaster risk reduction monitoring and response systems in preparation for the possible landfall of severe tropical storm Odette this week.
In Gingoog City, Misamis Oriental, the LGU has mobilized its City Disaster Risk Reduction Management Office (CDRRMO) as early as Monday night when rains began to affect some flood-prone communities.
During a briefer Tuesday, CDRRMO chief Marlon Pajo said residents should expect possible effects of "Odette" and sought their cooperation to prevent deaths and property destruction due to possible flooding.
"Food packs are prepositioned as we have prepared them," he said in the vernacular.
The LGU also suspended the classes of all learning institutions where teachers and other personnel still report to the workplace even though there are no face-to-face classroom schedules.
In this city, Nick Jabagat, the CDRMMO chief, said in a radio interview out of 80 barangays, they are monitoring 60 percent or 64 villages that are prone to flooding and landslides.
He said with the size of the city and the number of CDRRMO rescuers and barangay DRRM support, a strategic meeting was necessary for plotting coordination protocols for any storm bigger than "Sendong" that devastated the city and Iligan City some 10 years ago.
"We are asking them (barangay disaster response teams) for their support and presence, and we are thankful for their positive response," Jabagat said.
Meanwhile, Manticao town in Misamis Oriental reminded residents and visitors that Christmas lights and decorations at the town's public plaza, except for those at the municipal building, will be turned off whenever heavy rains occur.
Municipal Administrator Jovy Evangelista-Lim said the local engineering office has advised them to turn off the main switch of the plaza lights during a storm as it poses danger to visitors and spectators.
During fair weather, Christmas lights and decors will be only switched on from 6:30 p.m. to 11 p.m. daily.
Also, the second phase of the three-day national vaccination drive in the Northern Mindanao Region was moved from December 15 to 17 to December 20 to 22 as per the National Covid-19 Vaccination Operations Center due to the impending storm. 
(Philippine News Agency)