By Edwin Fernandez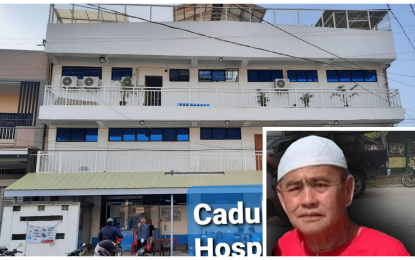 ---
PIKIT, North Cotabato: Medical practitioners and local officials here have condemned the fatal shooting of Dr. Robert Cadulong on Friday morning.
Mayor Sumulong Sultan on Saturday directed the Pikit municipal police to ensure that the perpetrators would be put behind bars soonest and the "brains" behind the attack identified.
Cadulong, a retired government physician and owner of the Cadulong Medical Hospital at the poblacion, was shot at close range by one of two persons on a motorbike near the Pikit Central Elementary School at 5:45 a.m. Friday.
The unsuspecting Cadulong, 63, a Maguindanaon, was jogging along Afdal Street, Barangay Poblacion when he was attacked.
He was declared dead on arrival at his own hospital located about 300 meters away from the scene of the attack.
Cadulong was a former municipal health officer of this town and the towns of Pagalungan and Datu Montawal in Maguindanao.
"As far as I know, Dr. Cadulong has no known enemies. He has no threats to his life, he was very helpful to his patients, especially the indigents. He does not deserve this," Sultan said in an interview.
Dr. Kadil Sinolinding, the victim's colleague, likewise condemned the attack and described the slain medical practitioner as "pro-poor and down to earth."
"He is a big loss to the medical profession in this part of the country," Sinolinding said as he urged the police to help bring justice swiftly to the slain victim.
Dr. Ameril Usman, director general of the Ministry of Health in the Bangsamoro Autonomous Region in Muslim Mindanao (MOH-BARMM), joined the medical professionals in condemning the attack against Cadulong.
"This case should be addressed by authorities soonest as we ourselves are having doubts about our safety," Usman said. 
Philippine News Agency