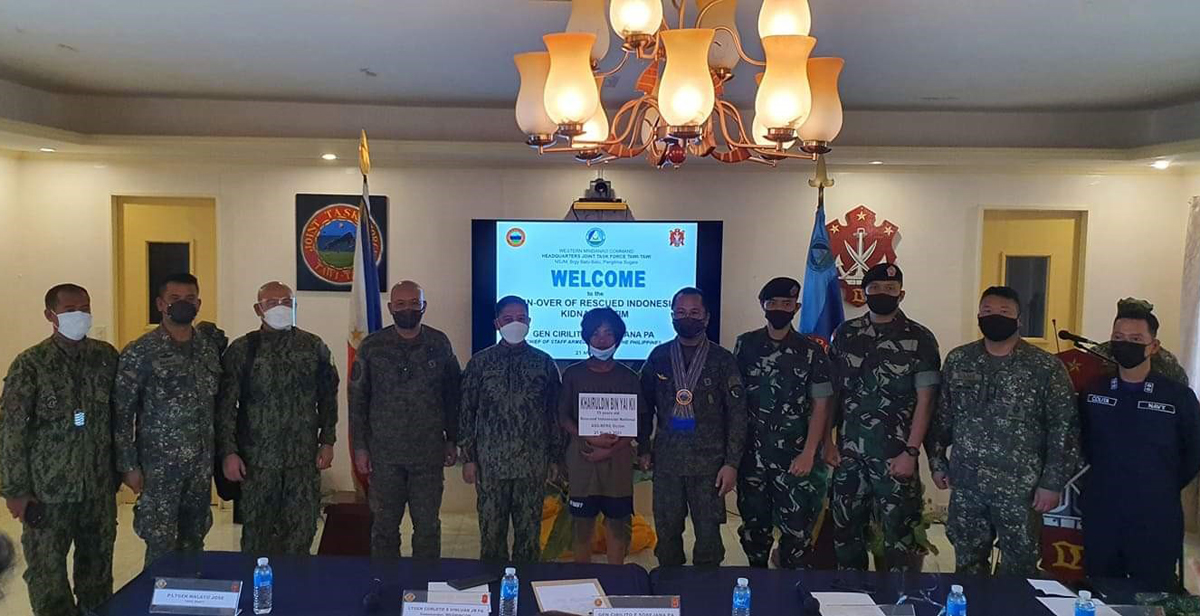 ---
ZAMBOANGA CITY: Government troops have rescued the last Indonesian kidnap victim and killed an Abu Sayyaf Group (ASG) leader in the province of Tawi-Tawi.
Lt. Gen. Corleto Vinluan Jr., commander of the Western Mindanao Command (Westmincom), said Mohd Khairuldin, 15, was rescued around 6:30 a.m. Sunday in Kalupag Island, Languyan, Tawi-Tawi.
Khairuldin is among the five Indonesian fishermen the ASG bandits abducted from a Sabah-registered trawler on Jan. 16, 2020 in the waters between Tambisan and Kuala Meruap, Lahad Datu, Sabah, close to the Philippine sea border.
Vinluan identified the slain ASG leader as Majan Sahidjuan alias Apo Mike, who died due to loss of blood following a clash with Marine troops Saturday evening in Kalupag Island, Languyan.
"We are happy that all the hostages are safe now and we are also able to neutralize the notorious 'Apo Mike' and two of his comrades," Vinluan said.
"He (Apo Mike) was severely wounded during the encounter, we tried to save him but his gunshot wounds were fatal," said Lt. Col. Venjie Pendon, Marine Battalion Landing Team-6 (MBLT-6) commander.
"We are glad that we are able to lead the hostages to safety through the support of the people and also through our collaborative efforts with the military," said Lt. Col. Gaylord Tamayo of the Philippine National Police (PNP) Special Operations Group-1.
The other three Indonesians, Riswanto Hayano, 27; Arizal Kastamiran, 29; and, Arsyad Dahalan, 41, the fishing boat skipper, were earlier rescued around 10:30 p.m. Thursday off Pasigan Island, South Ubian.
The ASG bandits killed one of the five Indonesians, La Baa, 32, who tried to escape, at the height of a clash with government troops on Sept. 29, 2020 in Barangay Maligay, Patikul, Sulu.
Brig. Gen. Arturo Rojas, 2nd Marine Brigade commander, said that the ASG bandits sailed to Tawi-Tawi bringing along the captives while evading the ongoing intensive military operations in Sulu.
Lt. Gen. Cirilito Sobejana, Armed Forces' Chief-of-Staff, fetched Khairuldin on Sunday from Tawi-Tawi to this city where he reunited with the other three rescued Indonesians.
(Teofilo Garcia, Jr./PNA/SRNY/RSP)