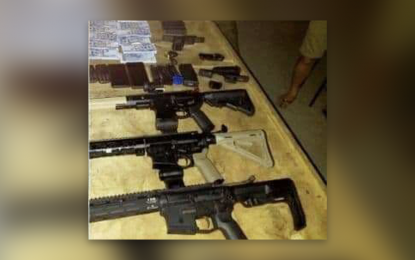 ---
ZAMBOANGA CITY: The chief of the Western Mindanao Command (Westmincom) vowed Wednesday "not to tolerate anyone in the organization" who is engaged in illegal activity.

Lt. Gen. Corleto Vinluan, Jr. issued the warning a day after authorities arrested an Army officer and an enlisted personnel in an entrapment for gun smuggling in Zamboanga Sibugay province.

"They are the stains that should be removed to maintain the clean reputation of the Armed Forces of the Philippines (AFP)," he said.

"Nevertheless, the AFP will still conduct our investigation and observe due process. Once proven guilty, the two will subsequently be discharged from the regular service of the Armed Forces of the Philippines and will face the appropriate charges under the rule of law," he added.

Capt. Christopher Galvez Eslava, 41, and Cpl. Ryan Laure Larot, 35, were arrested by police and military personnel around 12:15 a.m. Tuesday in Barangay Sanito, Ipil, Zamboanga Sibugay.

Eslava and Larot are assigned the 9th Regional Community Defense Group (9RCDG) of the Army Reserve Command (ARESCOM).

Brig. Gen. Ronaldo Genaro Ylagan, Police Regional Office-9 director, said the suspects yielded three cal. 5.56 M4 Carbine rifles, two 9-mm Glock pistols, three cal. 40 firearms, ammunition, and other pieces of evidence.

The two were temporarily detained at the Ipil Municipal Police Station. 
(Teofilo Garcia, Jr./PNA/SRNY/RSP)