By Nef Luczon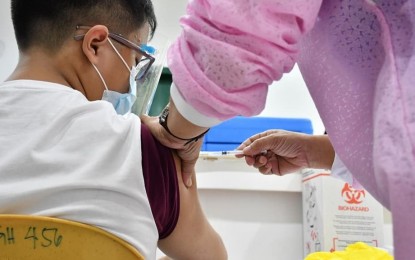 ---
CAGAYAN DE ORO CITY: The local government here on Friday has rolled out its "pediatric vaccination" drive against the coronavirus disease 2019 (Covid-19) for minors aged 12 to 17.
The ceremonial inoculation saw the initial batch of youth, accompanied by their parents and guardians, getting vaccinated at the city-run JR Borja General Hospital.
Merlyn Uy, the mother of 16-year-old Gabby, said in a video streamed online that she encouraged fellow parents to get their children vaccinated so they could get protection from the Sars-Cov-2 virus, which causes the Covid-19.
"In our family, he (Gabby) is the only one left in the household who has not yet been vaccinated, so we took this opportunity," she said.
Christian Ray Margacia, 17, also decided to get the vaccine so he could protect not only himself but also others.
Michaela Lei Tan, 15, said she was glad that her age group now has an opportunity to get vaccinated, adding that the process was "not scary at all".
The Department of Health has earlier approved the use of Moderna and Pfizer vaccines for minors aged 12 to 17.
Dr. Teodoro Yu Jr., medical officer at the City Health Office (CHO), said parents who want their children to get vaccinated should pre-register with their office.
Parents and guardians will then have to wait for an SMS prompt for their schedules.
"Let our children get the vaccine, this will be our prelude to the opening of face-to-face classes, especially next school year," Dr. Gina Itchon, head of research at the Northern Mindanao Medical Center, said.
Currently, however, face-to-face classes are still limited to medical and allied programs in tertiary schools.
The CHO has so far vaccinated 542,456 individuals as of October 28, or equivalent to 74.47 percent of the total 728,402 population of the city, based on the 2020 census of the Philippine Statistics Authority. 
(Philippine News Agency)