By Anadolu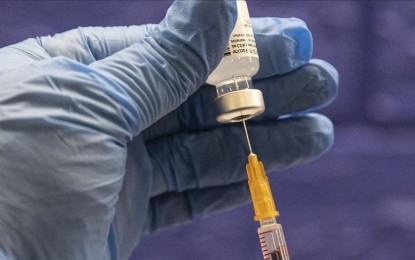 ---
LONDON: The UK administered a record 325,140 COVID-19 booster shots Saturday, according to the National Health Service (NHS).
Over the past 72 hours, more than 800,000 jabs were administered, it announced Sunday.
"It's fantastic to see so many coming forward to book in their vital vaccination," said Dr. Nikki Kanani, deputy head of the NHS vaccine program.
"Getting your booster jab is essential and is the best way to protect yourself and your loved ones this winter. The vaccine is safe and effective, so please do go online if you're eligible or call 119 to book in for your lifesaving booster today," she added.
Around 10 million people in England are eligible for booster jabs, including health care workers, those with underlying health conditions, and those aged 50 and over.
Booster shots can be booked after at least six months and one week from an eligible person's second jab.
Meanwhile, Britain's main opposition Labour Party called on the government to implement its Plan B coronavirus plan, which involves tougher restrictions.
"Labour as a responsible opposition has always said that we would follow the science, and we've seen today that SAGE is saying that some aspects of Plan B like wearing masks on public transport and in shops and also working from home more flexibly should be introduced," Shadow Chancellor Rachel Reeves told the BBC, referring to the Scientific Advisory Group for Emergencies, a government body that advises government decision-makers during emergencies.
Chancellor Rishi Sunak resisted Labour's suggestions, however, despite them being echoed by health officials.
"At the moment, the data does not suggest that we should be immediately moving to Plan B," Sunak told the BBC. "The prime minister actually just said that we're looking at the data all the time, as you would expect us too."
"We're monitoring everything, but at the moment, the data does not suggest that we should be immediately moving to Plan B. But of course, we will keep an eye on that, and the plans are ready."
British government data published Sunday showed that across the UK over the past 24 hours, there were 39,962 new cases, a slight decrease over days of increasing cases. This brings the total number of infections since the start of the pandemic to over 8.7 million. There were also a further 72 deaths, bringing the total since the start of the pandemic to 139,533.
Up to and including Oct 21, over 49.6 million first doses of vaccines have been administered to Brits aged 12 and over, or 86.4 percent, and over 45.5 million second doses, or 79.2 percent.
(Philippine News Agency)