By Anadolu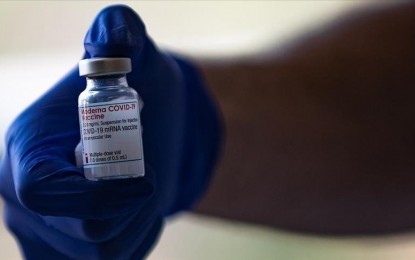 ---
NEW YORK: The US Food and Drug Administration (FDA) on Thursday approved emergency use of booster doses by Moderna and Johnson & Johnson against the Covid-19 pandemic.
The FDA said in a statement that it has approved the "use of each of the available Covid-19 vaccines as a heterologous (or 'mix and match') booster dose in eligible individuals following completion of primary vaccination with a different available Covid-19 vaccine."
The agency noted that the use of a single booster dose of the Johnson & Johnson vaccine may be administered at least two months after completion of the single-dose primary regimen to individuals 18 years of age and older.
Meanwhile, the use of a single booster dose of the Moderna shots that may be administered at least six months after the second doses to those aged 65 and as well as those over 18 years old working in risky jobs.
The FDA is expected to decide in the coming weeks whether to approve the Pfizer-BioNTech vaccine for children aged 5 to 11.
The White House on Wednesday unveiled a plan to vaccinate children between the of ages 5 to 11 against the coronavirus.
"Millions of adolescents ages 12-17 have been safely vaccinated, and we know vaccines work," the White House said in a statement. "Fully vaccinated individuals are 10 times less likely to be hospitalized with COVID-19 and have a high degree of protection, including against the Delta variant."
President Joe Biden's administration has procured enough shots to vaccinate the 28 million children ages 5-11 years old with a single dose of the Pfizer-BioNTech vaccine if authorized by the FDA and recommended by the Centers for Disease Control and Prevention (CDC), it said.
The administration said it is also launching a partnership with the Children's Hospital Association to work with more than 100 children's hospital systems across the US to set up vaccination sites from November through the end of the year.
The decision to vaccinate children of ages 5 to 11 comes before the FDA's advisory committee meeting on Oct. 26 and the CDC's meeting on Nov. 2-3.
The White House said 189 million Americans, or 2 in 3 eligible individuals, are fully vaccinated
 (Philippine News Agency)