By Edwin Fernandez
---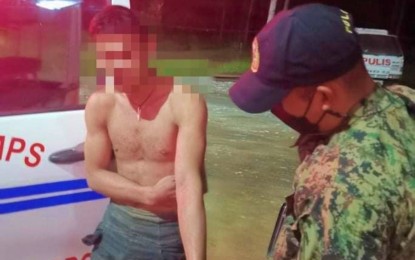 ---
ISULAN, Sultan Kudarat: A 22-year-old man was arrested for firing at a police patrol car in a drive-by fashion in Lebak, Sultan Kudarat, the police provincial office here reported Thursday.
Lt. Col. Joel Fuerte, chief of the provincial police community affairs development unit, said police officers, led by Maj. Rodney Binoya, were patrolling the border of barangays Poblacion and Tibpuan at about 9 p.m. Wednesday when they were fired upon by motorcycle-riding men.
"The gunmen were on board a motorbike who opened fire five times at our mobile patrol car then sped away," Binoya, the police chief of Lebak, said in his report to Fuerte.
Binoya said the incident prompted the police officers to give chase.
During the chase, the motorcycle-riding gunmen fell off a canal, leading to the arrest of one suspect while his companion managed to escape.
Fuerte identified the arrested suspect as Samirudin Pulayagan Solaiman, 22, of Barangay Tibpuan.
His companion who fled was identified as Nassep Maguid Macalatas, also from the same village.
"The suspects' identities were based on the drivers' licenses recovered from Solaiman," Fuerte said.
Also recovered were the motorcycle used by the suspects, as well as documents and a .45-caliber pistol from Solaiman.
Police found six empty shells for a .45-caliber pistol at the crime scene.
Solaiman is currently detained at Lebak municipal police lock-up cell.
Col. Tom Tuzon, Sultan Kudarat provincial police director, lauded the Lebak police for neutralizing Solaiman but keeping him unharmed during the operation.
"He will have his day in court," Tuzon said.
(Philippine News Agency)