By Edwin Fernandez
---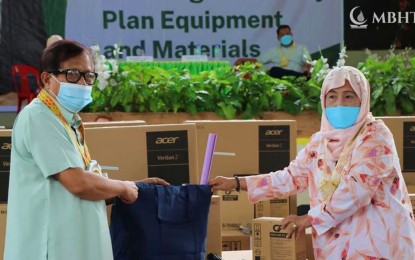 ---
COTABATO CITY: An education official in the Bangsamoro Region in Muslim Mindanao (BARMM) is optimistic that the government's Learning Continuity Plan (LCP) could help educators and students in the region overcome the challenges posed by the global pandemic.
Minister Mohagher Iqbal, of the BARMM's Ministry of Basic, Higher, and Technical Education (MBHTE), said Monday the distribution of LCP equipment and educational materials to recipient schools division in the region is ongoing.
The BARMM comprises the cities of Cotabato, Lamitan, and Marawi; the provinces of Maguindanao, Lanao del Sur, Sulu, Basilan, and Tawi-Tawi, and the 63 villages in North Cotabato province.
Iqbal said the latest beneficiary of the LCP equipment are the 29 schools in the Cotabato City schools division that received sets of computer desktops, digital duplicators, bond papers, teachers' kits, elementary books, flashcards, and water bottles.
"I request that everyone use them properly to serve its purpose in the long run and potentially help other students in need," Iqbal said in his statement read by MBHTE Deputy Minister Haron Meling during the LCP materials turnover rites in the city Monday.
Iqbal also lauded the teachers for their endurance and for supporting the MBHTE's efforts to improve the educational sector in the region.
"I am confident that we can effectively protect our educators' and learners' well-being and ensure that our education system will produce the next generation of leaders and innovators in the BARMM," he said.
Meling, for his part, said the MBHTE has already assured other schools divisions in the region that they will receive the same supplies in the coming days.
(Philippine News Agency)