By Claire Gigje
---
The worldwide health crisis brought by the coronavirus disease (COVID)-19 has been taking a great toll not just on the economy and the medical aspects of each nation but also on education.
In the Bangsamoro Region in Muslim Mindanao (BARMM), the Office of Member of the Parliament (MP) Atty. Maisara Dandamun-Latiph makes sure that the region, particularly the province of the Lanao del Sur and Marawi City will continue to have proper education despite the current battle against the unseen enemy.
Latiph recently turned over risograph machines to 28 school districts just in time for another round of school year still during the pandemic era, and this marked her commitment to quality education.
"This pandemic requires the teachers to produce modules and in order for the children to learn, they have to have printed materials. The teachers' problem right now is the lack of printers. Our office is committed to quality education through providing the necessary tools to the teachers so that they can teach effectively," she said.
Through her printer program, teachers under the recipient divisions are expected to be able to mass-produce numerous modules as each machine can print up to 200,000 pages.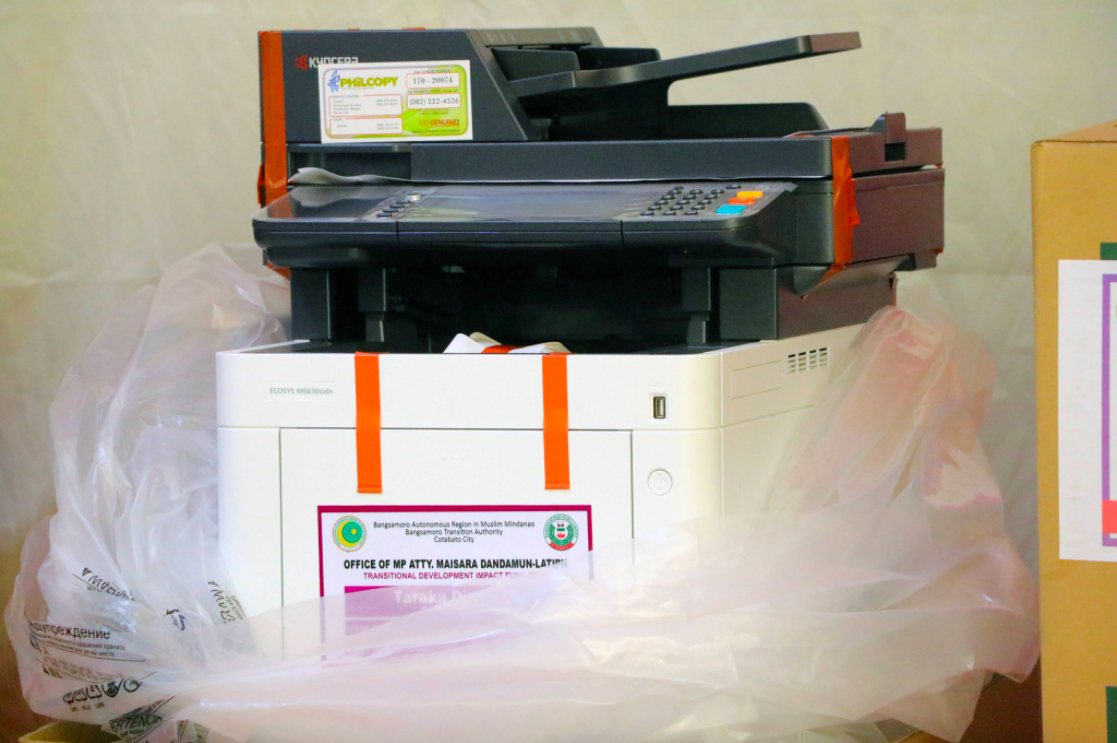 ---
Latiph shared she just discovered that there was no apportioned budget for the machines which pushed her to initiate the allocation under her Transitional Development Impact Fund (TDIF). With the drawn Php4.2 million, 35 machines were foreseen to be distributed, wherein 28 were already given and seven more are set to be handed over in the coming days.
The MP further stated that she later found out the exact total number of districts under each division in which she realized the 35 risograph machines does not suffice yet the total districts in the target province and city, making her optimistic that with part two of the distribution still from the TDIF, all districts will already receive the same machine.
Apart from the printer program, Latiph paved the way as well for an online learning program dubbed Siyap ko Kapaganad Program. Accordingly, this can serve education online and much fits learners who keep themselves away from modules. Other than that, this also contains modules suitable for the K-12 program comprising Kinder to Grade 12 for those who opt to have this type of learning.
The pandemic is yet to be concluded with various variants springing from time to time. Nevertheless, the office of the MP Latiph strives to maintain its mission of aiding educators deliver quality education.
"Our office is really in pursuit of excellence in education in Lanao del Sur. Ang adbokasiya namin ay [Our advocacy is] all children can learn provided they are given the support they need by the leaders, the teachers, and the community. Our office is providing that support both online and as you can see, our physical support… Makakaasa kayo na tuloy-tuloy lang ang aming programa sa dekalidad na edukasyon sa buong Bangsamoro, lalo na sa Lanao del Sur [You can trust that our program will continue for a quality education in the whole Bangsamoro, especially in Lanao del Sur]," said Latiph. Philippine Information Agency