By Edwin Fernandez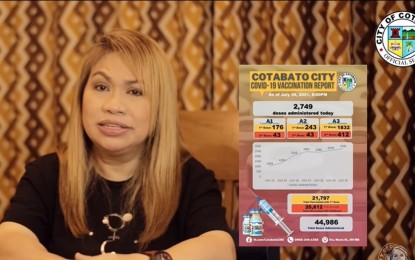 ---
COTABATO CITY: The city health office (CHO) announced Friday that residents here must register online to be accommodated for vaccination against the coronavirus disease 2019 (Covid-19).
"All those who have pre-registered online under the priority groups A1, A2, and A3 will receive text schedules of inoculation once additional supplies arrive," the city health office (CHO) said in a Facebook post.
The city's Inter-Agency Task Force Against Covid-19, through the CHO, has earlier launched the online registration to maintain physical distancing in vaccination sites.
"Basically, this is to prevent the spread of the Covid-19 virus," said Dr. Floyd Caoagdan, CHO spokesperson on anti-Covid vaccination.
Caoagdan said the online list up is the safest way of applying for vaccination after throngs of people simultaneously showed up in five vaccination hubs here the past several days.
"At the Lugay-Lugay Elementary School vaccination hub, people were queueing very close to each other, disregarding the physical distancing protocols being espoused by the city government," he said.
"The online jab pre-registration is open to all who wish to receive the first dose of anti-Covid-19 vaccines from priority groups A1, A2, and A3," he added.
He said that applicants for vaccination may visit http://www.cotabatocity.ph/vaccine then "click to register" button, fill-up the form with correct personal information, and wait for the mobile phone text confirmation.
"The text confirmation will give applicants the date and venue of their first dose of vaccination. Follow the instructions and bring your identification cards," Caoagdan said.
Since Monday, people have been crowding outside the vaccination hubs here.
A female medical front-liner, who requested anonymity, said she was surprised that people now are crowding vaccination areas.
"Only a few were coming to be inoculated the past two weeks," she said.
Some people said they want to get vaccinated to be able to enter establishments or dine in restaurants.
"Kasi di raw makapasok ng mall o ng restaurant kung walang bakuna at card (Reports have it that no vaccination card, no entry in malls or restaurants)," said Alejo Sandig, a resident of Barangay Rosary Heights 3, while at the long queue of vaccine applicants.
Earlier, Cotabato City Mayor Cynthia Guiani-Sayadi urged the public to get vaccinated amid the threat of the new Delta Covid-19 variant. To date, some 45,000 residents in A1 to A3 groups here have been vaccinated.
The city has a 325,079 population based on the 2020 census conducted by the Philippine Statistics Office–Bangsamoro Autonomous Region in Muslim Mindanao.
"In the coming days, we will open the inoculation for the A4 group, we are just awaiting additional supplies of vaccines," the mayor said, adding that vaccination hubs will also be opened. 
Philippine News Agency