By Noel Punzalan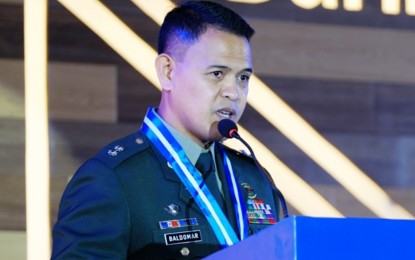 ---
COTABATO CITY: A military soldier was killed while seven others were wounded in a roadside bombing in Datu Hoffer Ampatuan, Maguindanao, an Army spokesperson here announced Friday.
Lt. Col. John Paul Baldomar, speaking for the Army's 6th Infantry Division (ID), said the incident took place at 10 p.m. Wednesday along the highway in Datu Hoffer Ampatuan town as the soldiers were returning to their barracks aboard a military truck.
"The improvised explosive device (IED) exploded as the military truck was passing by near the Poblacion area, hitting some of the soldiers aboard the truck," he said in a radio interview.
Baldomar said all the wounded soldiers were rushed to a nearby hospital, but one later died while undergoing treatment. "The remaining seven other soldiers are now in stable condition."
He declined to reveal the identities of the victims pending notification to their respective families.
"The hardest thing to do is always the part where we have to inform the families of the soldiers on what happened to them in the field," he said.
He also declined to identify the type of IED used in the attack but hinted it bore the signature style of the extremist Bangsamoro Islamic Freedom Fighters.
"Rest assured we are continuously tracking down remnants of the BIFF in Maguindanao," he said.
Army intelligence reports indicated that BIFF terrorists operating in the so-called "SPMS box" of the province have dwindled to some 50-60 combatants from its previous strength of more than 250 since January this year.
"Many of the BIFF members have either opted to surrender to the 6ID or killed in continuing military operations in the province," Baldomar said.
The SPMS box is a military term referring to the contiguous towns of Shariff Aguak, Pagatin (Datu Saudi Ampatuan town), Mamasapano, and Shariff Saydona, where the BIFF operates. 
Philippine News Agency