By Edwin Fernandez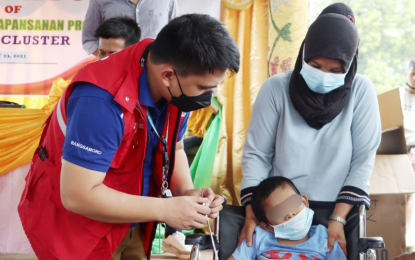 ---
PIKIT, North Cotabato: A total of 1,240 poor persons with disabilities (PWDs) coming from the Special Geographic Area of the Bangsamoro Autonomous Region in Muslim Mindanao (SGA-BARMM) in this province were recipients of cash aids from the BARMM government.  
Minister Raissa Jajurie of the Ministry of Social Services and Development (MSSD)–BARMM said Wednesday the aid distribution activity is in line with the observance of the 43rd National Disability Prevention and Rehabilitation Week.  
She said the Aug. 2 and 3 activity held here has served PWDs from SGA-BARMM villages in the towns of Kabacan, Aleosan, Carmen and Pikit, all in North Cotabato.  
Of the total recipients, 150 were from Kabacan, 236 from Carmen, 835 from Pikit, and 19 from Aleosan.  "The PWDs received PHP6,000 cash aid each during the two-day distribution," said Jajurie, a lawyer. 
The SGA comprises 63 villages in six towns of North Cotabato that opted to join the BARMM during a two-part plebiscite held in January and February 2019.  
The MSSD-BARMM is yet to schedule similar activities for PWDs at SGA communities in the towns of Midsayap and Pigcawayan, also in North Cotabato, this week.  
"The cash payout will continue in the SGA-BARMM soon to also support the 267 and 205 PWDs in Midsayap and Pigcawayan towns, respectively," Jajurie said.  
She said the cash assistance was lodged under the "Kalinga Para sa May Kapansanan Program (KPMKP)," one of the banner programs of MSSD that recognizes the social protection and rights of PWDs, especially those in the underprivileged sector.  
The KPMKP is an initiative of the MSSD launched in 2020.  
Jajurie said the cash assistance is provided to support the PWDs' daily subsistence, medicine and other needs, thereby uplifting their living conditions.  
Aside from cash aid, MSSD-BARMM also turned over assistive devices to some beneficiaries whose cases were managed by the field social workers.  
They were given wheelchairs, quad canes, folding canes for the blind, and crutches for one-legged PWDs.  
Sandra Macacua, MSSD program specialist for older persons and PWDs, said another program of their office, the "Bangsamoro Sagip Kabuhayan Program", provides capital for livelihood projects of the PWDs.  
"This helps intensify economic empowerment for the PWDs," Macacua said.  One of the recipients, Johnny Uyag, 41, a farmer and father of a PWD from Pikit town, could hardly find words to describe how grateful he was for receiving assistance for the first time for his son who suffers from cerebral palsy.  
"Malaking tulong po talaga ito sa mga may kapansanan tulad ng anak ko para pambili ng mga gamot at pagkain niya.
(This is really big help to those who have disabilities like my son, for his medicine and food)," Uyag said in an interview with reporters covering the two-day activity.  
Jajurie said they would continuously monitor the conditions of the PWDs at the SGA in North Cotabato to be able to respond to their needs, particularly during this time of the pandemic.
Philippine News Agency