By Noel Punzalan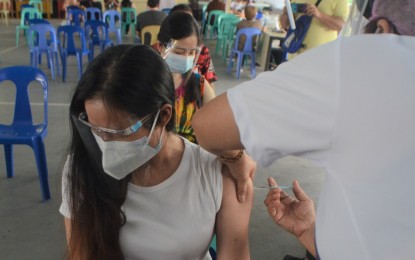 ---
COTABATO CITY: A total of 44,986 residents here have been inoculated against the coronavirus disease 2019 (Covid-19).
Dr. Kenneth Floyd Caoagdan, the city health office vaccination focal person, said of the total number, 20,612 residents – all belonging to the A1 (medical workers), A2 (senior citizens) and A3 (persons with co-morbidities) categories – completed their two doses of vaccination while the remaining 24,374 had their first dose.
"We are currently waiting for the directive to start the inoculation of the A4 and A5 category in the city soon," Caoagdan told reporters here Monday.
Those under the A4 category include essential government and private employees, self-employed and workers in the informal sector.
"Men in uniform, small store owners, household workers, and those working in markets, and related establishments are included in this category," Caoagdan said.
Under the A5 category include indigents and poor families in the city.
The city is targeting to vaccinate at least 70 percent of the city's 300,000 population within the year.
Mayor Cynthia Guiani-Sayadi reiterated her call for city residents to have themselves vaccinated amid the threat of the highly transmissible Delta variant.
"It is the strongest variant so far as it contains a thousand more particles than the previous variants, which makes it three times more contagious than the original severe acute respiratory syndrome coronavirus 2 (SARS-CoV-2)," she said.
As of July 29, the country has a total of 216 Delta variant cases. 
Philippine News Agency