By Jemin Guillermo
Over the last five years, we have seen a President who has shown us what Malasakit is towards the Filipino people. President Rodrigo Roa Duterte's 2021 State of the Nation Address has renewed the hope of the Filipinos for a better and brighter Philippines
Since his administration started, 229,289 hectares of land have been distributed to our poor and deserving farmers for agriculture through the issuance of EO 75 s. 2019, identifying lands owned by the government devoted to or suitable for agriculture for distribution to qualified beneficiaries. More than 2,245 farmer beneficiaries in the Visayas were granted land ownership totaling over 3,000 hectares, along with millions worth of support services projects. These were made possible by the implementation of the President's EO 70 s. 2018 instituting a whole-of-nation approach on ending local communist armed conflict (ELCAC program).
The farmers even further benefited from the passage of RA 10969 or the Free Irrigation Service Act, where small-scale farmers are exempted from paying irrigation service fees.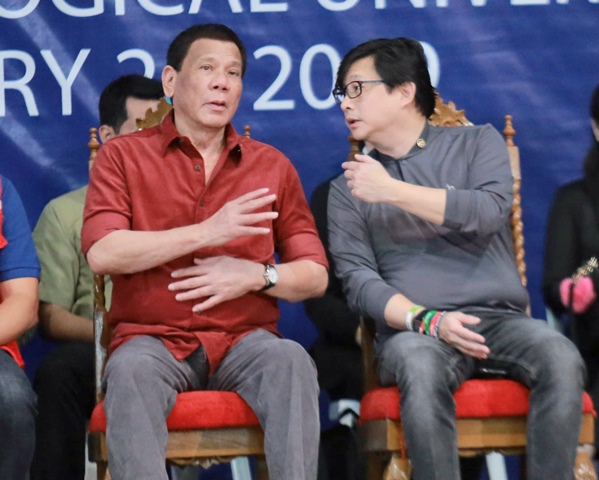 To complement the agriculture, tourism, commerce and all other sectors, 29,264 kilometers of roads were completed through the Build, Build, Build program, along with 451 seaport- and 214 airport-projects completed as of June this year.
As part of the Philippines' Golden Age of Infrastructure, the Visayas has been a recipient of major flagship and development projects that will further pave the way for its metro cities, tourism destinations and IT hubs to be an economic stronghold. World-class masterpieces such as the Mactan-Cebu International Airport Terminal 2, Panglao-Bohol International Airport, development of Siquijor, Dumaguete, Santa Fe-Bantayan, and Calbayog Airports, and the soon-to-be-completed Cebu-Cordova Link Expressway are most notable. These are on top of port rehabilitation, bypass and farm-to-market road constructions, and resettlement housing.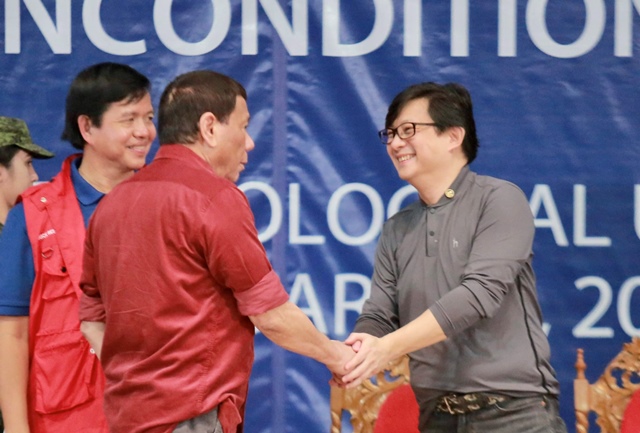 ---
The Ease of Doing Business and Efficient Government Service Delivery Act or RA 11032 expanded the powers of the Anti-Red Tape Authority thereby streamlining basic government services and processes, minimizing the bureaucratic red tape that have painfully caused inconvenience to our transacting public in the previous years.
When he signed RA 10931 or the Universal Access to Quality Tertiary Education Act, a total of 1,623,628 students were able to avail free college tuition and other school fees. With this, more students will be enjoying free, quality tertiary education as a right and no longer a privilege like before in the coming years.
Through the passage of RA 11223 or the Universal Health Care Act, 109,035,343 Filipinos now have healthcare coverage. This is timely since the country, as with the rest of the world, is now in the midst of a global health emergency.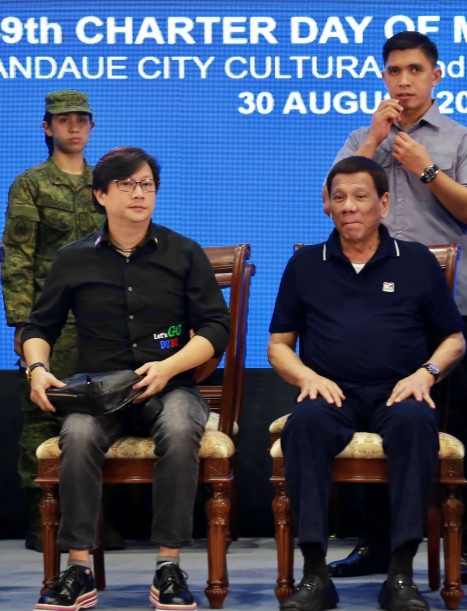 ---
Even before the Universal Health Care Act was enacted, through the efforts of Senator Christopher Lawrence "Bong" Go, the nationwide rollout of Malasakit Centers was well underway. As of the moment, we now have 130 Malasakit Centers across the country, 26 of which are in the Visayas, where we were able to assist 2 million individuals already.
As the Cabinet Officer for Regional Peace and Development for Central Visayas, I have also witnessed firsthand our peace and development efforts through the Regional Task Force 7 on Ending Local Communist Armed Conflict (RTF 7 ELCAC) by way of basic services, former rebel reintegration and amnesty programs, and sectoral unification efforts.
For Central Visayas alone, a total of 32,014 individuals were given a total of 113,244,300 million pesos through the DSWD's Social Amelioration Program. Over 6 million worth of assistance were given to 128 former rebels through the Enhanced Comprehensive Local Integration Program. For 2022, we have endorsed 86 barangays in Region 7 for inclusion in the Barangay Development Program where each barangay will get a fund of 20 million each for their locally-identified programs, activities and projects. This administration really takes peace efforts seriously as its way of paving sustainable growth and development.
All these plus more, are the accomplishments of the Duterte administration. Despite the COVID-19 pandemic, the Duterte government has delivered excellent and dedicated service to the people. 
I am proud that, as Presidential Assistant for the Visayas, I was able to take part and give aid in the President's pursuit for change. Being able to lift 6 million Filipinos out of poverty is truly a remarkable feat that tells us that this administration sincerely wants happy and comfortable lives for all. PIA