By Nef Luczon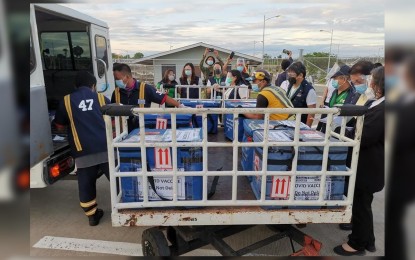 ---
CAGAYAN DE ORO CITY: Organizations belonging to the Filipino-Chinese community were the first private organizations to bring in Covid-19 vaccines to Northern Mindanao, the regional office of the Department of Health (DOH) said.
Dr. David Mendoza, DOH 10 (Northern Mindanao) Local Health Support Division chief, said the Filipino-Chinese Chamber of Commerce (FCCC), through the Cagayan de Oro Filipino-Chinese Community, Inc., procured 12,781 of the CoronaVac vaccines in coordination with the DOH, as part of the group's ongoing coronavirus disease 2019 (Covid-19) pandemic response.
"The Filipino-Chinese Chamber of Commerce has procured 12,781 doses of Sinovac vaccines. It is among the first business groups to help and support the government in dealing with Covid-19 vaccination, especially for Northern Mindanao," he said in a statement on Wednesday.
Mendoza said even though they spent for the vaccines, the FCCC group has to follow the A1, A2, and A3 category priority utilization list set by the government.
"They may, however, proceed with the A4 type because it has a greater population than the A2 and A3 types. They are allowed to go to A4 since they paid for those vaccines," he said.
Mendoza added that the DOH-10 appreciated the Filipino-Chinese Chamber's initiative to help the government with its vaccine rollout since it would help increase vaccination headcount and participation in the region.
Out of the 12,781 doses that arrived, he said, 1,535 will be allocated to the Polymedic hospital as allocation for members of the Filipino-Chinese community, who will receive their first dose, while the remaining 11,246 will be at the Limketkai Center for the Chamber members' first and second doses of inoculation.
Meanwhile, the City Health Office (CHO) said the total number of vaccinated individuals has reached 69,696, as of Wednesday.
Dr. Teodulfo Joselito Retuya, CHO resident epidemiologist, said most of the inoculated individuals belong to the A2 list or senior citizens with 29,292, followed by the A3 list or individuals with comorbidities with 21,419.
He said individuals who received the first dose number 55,969, while the second dose recipients total 13,727.
Philippine News Agency