By Nef Luczon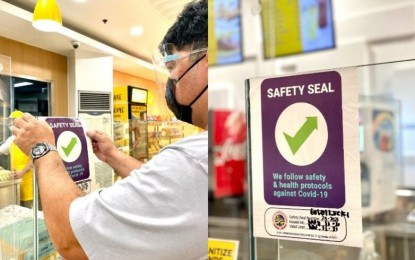 ---
CAGAYAN DE ORO CITY: The local government here on Thursday launched the "Safety Seal Certification Program" which will enforce and monitor the standard health protocols of every commercial establishment to prevent coronavirus disease 2019 (Covid-19) contagion.
Eileen San Juan, local economic and investment promotions officer of the city's Trade and Investment Promotions Center, said this is part of the inter-agency joint memorandum circular by the Departments of Labor and Employment, Health, Interior and Local Government, Tourism, and Trade and Industry.
"This is a form of confidence-building for our residents and communities (to let them know) it is safe to enter a (commercial) building," she said.
San Juan said that commercial establishments can get the seal free of charge from the city government, but they will only get the seal after they passed the accreditation and evaluation process, one of which is the strict implementation of the contact tracing application, the Higala App.
"I encourage them (business establishments) to have this (seal). It is part of their promotion on their establishment so the public knows they are safe," she said.
Zelfred Anthony Cocon, head of City Management Information System, said in order to apply for registration, establishments will go to a microsite, the same way the city collects registrations for the Higala App, and the Covid-19 vaccination pre-registration.
Higala App is an online portal that aims to improve the city's contact tracing capabilities developed by the City Management Information System Office and managed by the City Tourism and Cultural Affairs Office.
"In the microsite, they can access the needed toolkits and guidelines for the safety seal. They can see the checklists and see the issuing authorities (depending on the nature of their businesses), and hotlines where they can contact for inquiries and reports," he said.
The microsite can be accessed via services.cagayandeoro.gov.ph/cdosafetyseal.
Philippine News Agency