By Edwin Fernandez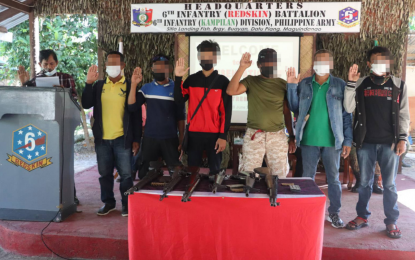 ---
CAMP SIONGCO, Maguindanao: Six members of the Bangsamoro Islamic Freedom Fighters (BIFF) who voluntarily surrendered to the military in Datu Piang, Maguindanao Monday pledged allegiance to the government.
Lt. Col. Charlie Banaag, the Army's 6th Infantry Battalion commander, said the surrender showed that the BIFF members under the Bungos faction are starting to realize the group's lost cause.
"For the past months, the Army, together with partners under the Joint Task Force Central, has been continuously running after BIFF extremists who were responsible for the series of atrocities in Central Mindanao," he said.
The former extremists also yielded six high-powered firearms.
A certain Abdullah, one of the surrenderers, said they grew tired of always running away from intense military operations, prompting them to yield.
"There is nowhere to go, the military is closing in on us," he told reporters here in the vernacular.
Mayor Solaiman Sandigan of nearby Datu Salibo town facilitated their surrender.
Most notable of the atrocities perpetrated by the BIFF were the attack at Barangay Kitango, Datu Saudi Ampatuan on March 17, 2021, and the failed seizure of the Datu Paglas municipal public market on May 8, 2021, wherein the extremist group suffered numerous casualties after a series of armed clash with government forces.
Since then, the BIFF shifted its tactics by using bomb attacks against government forces and the civilians that had killed two women and injured one in Datu Saudi Ampatuan last April 28.
On June 22, the BIFF also launched another bomb attack in Datu Hoffer, Maguindanao, which left a pregnant woman dead and her two children injured. 
Philippine News Agency