By Franck Dick Rosete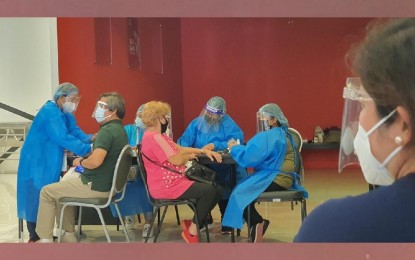 ---
CAGAYAN DE ORO CITY: The city government on Thursday assured the public that it does not "sell" coronavirus disease 2019 (Covid-19) vaccination slots.
Dr. Lorraine Nery, acting city health officer, said the vaccination sites would only cater to the target recipients who have confirmatory text messages from the data management team, based on the pre-registration database of the city government.
"Once you arrive there (vaccination sites), if you don't have a confirmatory text message, you will not be accommodated," Nery said.
She said the data management team's system is a closed system, which means that target recipients who are on-site cannot be overtaken by another recipient; unless there is approval from Dr. William Bernardo, data management team head.
"Only Dr. William Bernardo can instruct his team with regards to opening a vaccination site to cater to a certain individual and that is our safeguard, only one person can command," she said.
Nery confirmed that they have not received, as of now, a complaint relating to vaccination slots for sale or even vaccines for sale.
It can be recalled that three individuals in Mandaluyong City are facing charges for involvement in '"vaccination slot for sale."
Meanwhile, the city's vaccination of senior citizens is still ongoing, including some individuals under A3 category or persons with comorbidities, through a quick substitution list, and immediate family members of medical front-liners listed under A1.1.
As of June 6, the City Health Office has recorded 30,126 vaccinated individuals, of which 16,055 are fully vaccinated, and the remaining got their first doses.
Nery vowed to provide updated vaccination data every end of the week.
The city government started the Pfizer vaccine's simulation exercise at the Limketkai Center on Thursday in preparation for the possible Pfizer vaccination rollout next week.
Philippine News Agency