By Franck Dick Rosete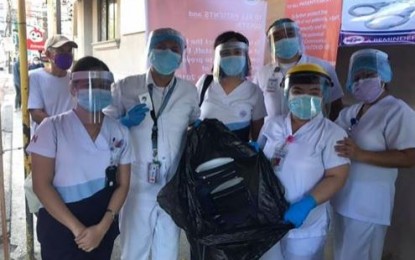 ---
CAGAYAN DE ORO CITY: The City Health Office here has urged the public to maintain wearing face shields as an additional protective gear against coronavirus disease 2019 (Covid-19).
CHO resident epidemiologist Dr. Teodulfo Joselito Retuya underscored the importance of wearing face shields as the city is currently under modified enhanced community quarantine (MECQ) due to Covid-19 surge.
"It has been proven that our face mask and face shield are very important and then, why should we settle for one?," he said in a virtual press briefing Saturday.
Retuya said people could get 99 percent protection against the virus if they are wearing a face mask, face shield, and observing physical distancing measures.
"That will add up since we have already started our vaccination, the protection will become higher," he added.
Retuya said vaccinated people must also continue following the basic health protocols because they could still be infected as the vaccines cannot give 100-percent immunity.
As of June 11, the city recorded 582 vaccinated individuals that still got infected with the virus, of which 420 were vaccinated with Sinovac, 156 with AstraZeneca, five from Pfizer, and one from Sinopharm. "Maybe if you are outside (open wide areas), it can be without the face shield but the face mask must be there always.
But we have an ordinance now, especially (since) we are in MECQ, we have to follow (the rules)," he said.
As of June 11, the city recorded 8,634 total Covid-19 cases after logging 108 new infections. Of the total, 1,563 are active cases, 6,691 recoveries, and 380 deaths.
Transmissions inside jail Meanwhile, the CHO has recorded a total of 234 persons deprived of Liberty (PDL) in Lumbia City Jail who have contracted Covid-19 since the pandemic started last year.
Retuya said 61 PDLs are active cases while 173 PDLs have recovered from the virus.
The city logged 10 new positive PDL cases as part of the 108 new infections, he said.
The CHO has assisted 1,499 individuals inside the jail for swab testing, with over 234 PDLs infected with the coronavirus.
Retuya commended the effort of the Bureau of Jail Management and Penology (BJMP) Region 10 in implementing strict measures to prevent the virus from entering the main jail where the general population is located.
He reiterated the jail's policy where newly-transferred PDLs in Lumbia City Jail are being placed in the holding area for quarantine and swab testing.
Meanwhile, all of the 61 active cases are situated in the jail's own temporary treatment and monitoring facility (TTMF) and all of them are in good condition, Retuya said.
The city has the most number of Covid-19 cases for the entire Northern Mindanao based on the data from the Department of Health Region 10.
Philippine News Agency