By John Andrew Tabugoc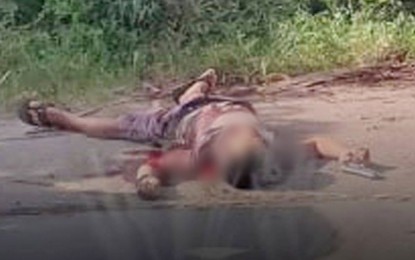 ---
MATALAM, North Cotabato: A man wanted for multiple criminal charges was killed here after a shootout with police officers serving him an arrest warrant.
Maj. Junrel Amotan, town police chief, said Wednesday the law enforcement operation has gone awry after suspect Joharie Sati Sabal alias Alsati Gariano Sabal, 44, tried to escape and opened fire on the police.
"The suspect was killed in a shootout near his safe house in Purok Krislam, Barangay Poblacion at 3:30 p.m. Tuesday," Amotan said.
Attempting to escape, the suspect started the motorbike, then fired at the arresting team, forcing the lawmen to retaliate, Amotan added.
"The police team hit the suspect and brought him to the hospital but was pronounced dead on arrival," Amotan said.
The police official said the suspect was facing charges before a local court for Illegal possession of explosives, attempted homicide, and violation of Republic Act 9165 or the Comprehensive Dangerous Drugs Act four years ago.
"Sabal went into hiding and it was only on Tuesday that an asset tipped us about his presence at Poblacion village," Amotan said.
Recovered from the suspect were a caliber .45 pistol, ammunition and the motorcycle.
Based on latest data, the local police force has arrested 26 wanted persons and nabbed 16 others in its anti-drug operations since January this year. 
Philippine News Agency