By Noel Punzalan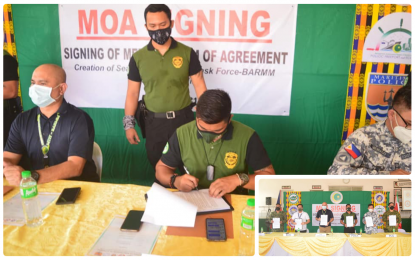 ---
COTABATO CITY: The Philippine Drug Enforcement Agency – Bangsamoro Autonomous Region in Muslim Mindanao (PDEA-BARMM) has formed a Seaport Interdiction Task Force (SITF) to curb the shipment, delivery, and transportation of illegal drugs at ports in the region.
"We have some major ports in the region that need to be guarded for the possible entry or exit of illegal drugs," PDEA-BARMM Director Juvenal Azurin told reporters here Tuesday.
He said the SITF-BARMM is also mandated to control precursors and essential chemicals used in the manufacture of illegal drugs slipped through the main seaports of the region.
In a separate interview with the Philippine News Agency (PNA), Azurin said there has been an increase in drug-related cases in BARMM since 2019 but added they are continuously tracking down big drug syndicates in the region.
He said on March 21 this year, PDEA-BARMM burned PHP22 million worth of shabu from a series of operations in 2020 at a private thermal facility in Maguindanao, with BARMM and Cotabato City officials witnessing the event.
He said the two major transshipment points of shabu in BARMM are the provinces of Maguindanao and Lanao del Sur.
Azurin said the PDEA-BARMM recently signed a memorandum of agreement with partner agencies for the establishment of SITF units at busy ports in the region.
The partner agencies include the Bureau of Customs – BARMM, Philippine Coast Guard – Southern Mindanao District, the Philippine National Police – Maguindanao Maritime Unit, the Philippine Navy – Marine Battalion Landing Team-5, and the Polloc Free Port and Economic Zone.
The major seaports in BARMM are the ones in Lamitan City and Maluso town in Basilan; the Jolo port in Sulu; the Bongao port in Tawi-Tawi; and the Polloc port in Maguindanao.
The Polloc port is the biggest in the region and can handle bulk, break-bulk, and containerized cargo. It is also a frequent port of call for interisland ferries and occasional foreign cargo carriers.
Polloc port is also a key facility in the South Central Mindanao corridor under the Mindanao Development Authority's (MinDA) Economic Development Corridors strategy for economic growth.
"Safeguarding the possible entry of illegal drugs in Polloc port alone is a big job for the SITF-BARMM," Azurin said.
He said the partner agencies have vowed to fully support PDEA-BARMM in curbing the transshipment of illegal drugs through ports in the region.
Philippine News Agency