By Edwin Fernandez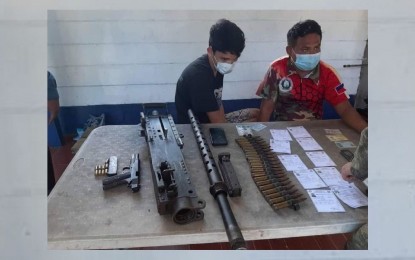 ---
COTABATO CITY: Police arrested two men for possession of a .50 caliber machinegun and a .45 caliber pistol while entering the city from Maguindanao on Friday.
Police Maj. Elexon Bona, city police station 1 chief, said joint operatives of the city police and the Highway Patrol Group (HPG) intercepted a green sedan car at a quarantine checkpoint at Delta Bridge in Barangay Poblacion 1 at about 10:30 a.m.
"The checkpoint personnel noticed two men acting suspiciously during checkpoint operation, prompting them to carefully (check) the car," Bona said.
He added that police found a .45 caliber pistol and a disassembled .50 caliber machinegun with bullets inside the car.
The two suspects were later identified as Mohaddin Sabal Monico, 35; and Alidatu Abdul Monico, 28, both of Maguindanao.
Bona said HPG-Cotabato operatives are currently checking on the vehicle's registration records.
The two refused to talk to reporters inside the police lockup.
Philippine News Agency