By Jigger Jerusalem and Nef Luczon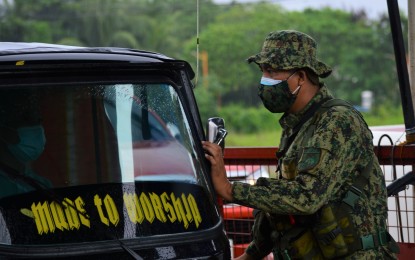 ---
CAGAYAN DE ORO CITY: The local government here has assured the public that Covid-19 vaccination drives will go unhampered despite the city being placed under modified enhanced community quarantine (MECQ) beginning Tuesday, by the Inter-Agency Task Force for the Management of Emerging Infectious Diseases (IATF-EID).
City Mayor Oscar Moreno, in an online presser, said this is one way to prevent the rising number of cases that are being brought to hospitals.
Moreno said the city government is keen on reducing the critical utilization rates of hospitals, especially the state-run Northern Mindanao Medical Center (NMMC), so that the quarantine classification status, which runs up to June 15, would be lowered.
"We will expand our vaccination (and) we will not stop (with the vaccination drive)," he said.
Dr. Lorraine Nery, acting city health officer, said medical volunteers have been helping to speed up the inoculations in the designated vaccination sites.
Nery said while those above 65 years of age are generally not allowed to go outside under MECQ, they could be exempted so they could get their jabs.
"Seniors who will (be) vaccinated, especially on their second doses, should bring their IDs and show their vaccination appointment confirmations," she said.
On Monday night, the IATF-EID, through Resolution 118-A dated May 31, 2021, changed the city's quarantine status to MECQ from its previous modified general community quarantine (MGCQ) level, making it the only area in Northern Mindanao to have been declared as such.
All the region's provinces – Bukidnon, Camiguin, Lanao del Norte, Misamis Occidental, Misamis Oriental – have been placed under the lower MGCQ.
Iligan City, one of the chartered cities of the region, is on general community quarantine (GCQ) until June 30.
Under MECQ, public transportation is prohibited and travel around Cagayan de Oro City is limited to buying essential items, such as food and medicines.
Moreno said he had requested the IATF-EID to place the city under GCQ.
"I didn't ask for it (MECQ), but I will not object to it," he said.
Moreno said the Department of the Interior and Local Government had told him he could lodge an objection to the quarantine reclassification.
"Even if I wanted to object, I hesitate to do so because our cases have been increasing," he said.
The region's Covid-19 referral hospital, the NMMC, has declared "code red" as it is now using 50 percent of its facilities and services for Covid-19 cases
Philippine News Agency