By Franck Dick Rosete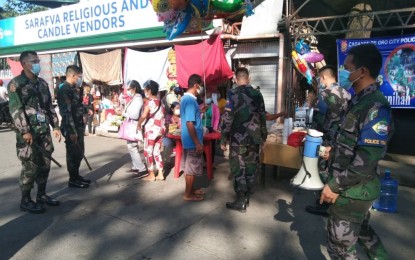 ---
CAGAYAN DE ORO CITY: One of the barangays in this city on Tuesday ordered the temporary closure of all businesses surrounding the iconic landmark St. Augustine Metropolitan Cathedral.
Barangay 1 Chairperson Anthony Abejuela said this was after the national Inter-Agency Task Force for the Management of Emerging Infectious Diseases (IATF-EID) placed the city under modified enhanced community quarantine (MECQ).
"We're doing this in order to help the local government unit of Cagayan de Oro in fighting the spread of Covid-19 (coronavirus disease 2019)," Abejuela said.
Businesses in the area will be closed from June 2 to 15 but a majority of the more than 30 stallholders have expressed worry over the decision.
"The majority of the vendors are worried because we did not expect the closure of the stores, which are our primary source of income," said Vicentacion Tagsa-Cairel, a vendor who sells religious items and candles near the church.
The stall vendors said they are just hoping the temporary closure would not go beyond June 15, the date the MECQ status is supposed to end.
"We have all agreed. We have no choice because this is for our own good," Sylvia Kristel Deasis-Nob, another vendor, said.
Abejuela asked for the full cooperation of the stall vendors to help the community, promising that the barangay is doing its best to assist the affected vendors.
"We in the barangay will try our very best to provide assistance to the vendors in the barangay affected by the temporary closure," he said.
City Mayor Oscar Moreno had requested the IATF for a general community quarantine (GCQ) but accepted the MECQ status from June 1 to 15.
"I explained that already that we're not the one to decide. I think this is OK in a sense that the people are already getting the message very clearly," Moreno said.
He said the city government is focusing on the critical care utilization rate and the infection rate, which he believes are the main reason for the stricter quarantine level.
Based on data from the city health office presented on June 1, the city logged 94 new cases of Covid-19, bringing the total to 7,215. Of this, 1,272 are active cases.
Philippine News Agency