By Edwin Fernandez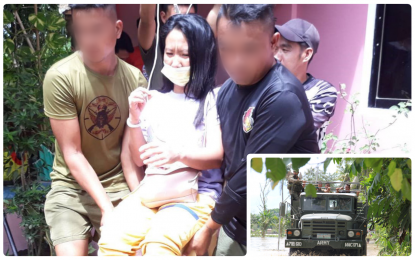 ---
CAMP SIONGCO, Maguindanao: Hundreds of families were rescued and brought to safer grounds by soldiers of the Army's 7th Infantry Battalion (7IB) as flash floods inundated low-lying areas of Isulan, Sultan Kudarat due to Tropical Storm Dante on Tuesday.
Lt. Col. Rommel Valencia, 7IB commander, said in a statement on Tuesday they momentarily laid down their firearms and used their military trucks to help residents who were affected by the floods.
"We physically carried the senior citizens, physically handicapped, children and those who are sick," Valencia said.
He said soldiers on board the trucks went from one sitio to another to find civilians trapped by floods after the Alah River and the Banga River overflowed following moderate to heavy downpour brought about by the storm starting on Monday.
The Army troopers and personnel from the provincial disaster management office have evacuated at least 300 families from the affected areas.
"I can't find words to describe how grateful we are you came to save us," Ysabelle Danlas, 45, told reporters here in a mobile phone interview.
She said the soldiers also assisted her family in saving their valuables as floodwater rose to as high as waist level in Barangay Sampao.
Also severely affected was the village of Kolambog also in Isulan. The soldiers also went out of their way to provide the displaced families with bottled water while emergency relief aid from the local government unit was on its way to the affected families.
Isulan Mayor Marites Pallasigue lauded the Army for responding even without being requested by the local government.
"We are grateful to our women and men in uniform," the mayor said in a separate interview.
Lovely Joy Hallegado, provincial disaster management officer, said other flood-affected areas in the province are the low-lying villages in Tacurong City, and also those in the towns of Esperanza and Lambayong.
"Military troopers are also there to help us evacuate villagers in critical areas," she said. "Damage assessment to infrastructure is still ongoing."
Philippine News Agency