By Edwin Fernandez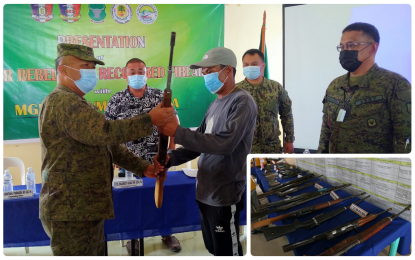 ---
CAMP SIONGCO, Maguindanao: Tired of hiding in the mountains, 21 former combatants of the communist New People's Army (NPA) surrendered to authorities in Lebak, Sultan Kudarat on Tuesday morning.
Col. Eduardo Gubat, commander of the Army's 603rd Infantry Brigade, and Lebak Mayor Frederick Bong White Celestial welcomed the 21 former NPA combatants during surrender rites at the brigade headquarters in Lebak.
The surrenderers, led by Ariel Odas Apang alias "Ka Tats" of the Dragon Fruit Platoon, East Daguma Front, also turned over 21 assorted firearms along with several explosives and other war materiel.
"Our companions who earlier surrendered to the Army helped convince us to surrender. This is the start of a new life for us," Apang told the PNA here in the vernacular during a short interview via a mobile phone.
"No need to fight a government that is looking for our welfare," another surrenderer who only identified himself as "Ka Herming", said in a separate phone interview.
Ka Herming said he and Apang joined the movement in 2016 after the NPA leaders convinced them that they can legally claim and own the land they till in the mountains of Sultan Kudarat.
Mayor Celestial said the 21 NPA rebels, like their comrades who came down ahead, would be enrolled in the Enhanced Comprehensive Local Integration Program (E-CLIP). In exchange for their firearms, the rebels will get financial aid, rice and other non-food provisions to help them restart life with the mainstream society.
Maj. Gen. Juvymax Uy, commander of the 6th Infantry Division, lauded the 603rd brigade for the accomplishment and urged other NPA members still in the mountains to avail of the government's offer.
He said since January this year, 60 NPA militants have surrendered to 6ID field units in Central Mindanao.
"A total of 60 assorted firearms and explosives were also turned over during the period," he added.
The CPP-NPA, which has been waging a five-decade armed struggle against the government, is listed as a terrorist organization by the United States, the European Union, the United Kingdom, Australia, Canada, New Zealand, and the Philippines.
Philippine News Agency