By Edwin Fernandez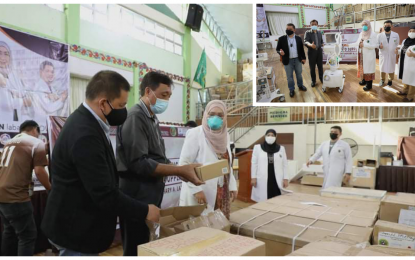 ---
COTABATO CITY: The Amai Pakpak Medical Center (APMC) in Marawi City got a much-needed boost in its fight against coronavirus disease 2019 (Covid-19) following the delivery of new medical equipment and supplies from the regional health office over the weekend.

Dr. Shalimar Sani-Rakiin, APMC chief of hospital, said they are now using two new mechanical ventilators, three high-flow oxygen machines, personal protective equipment, and various Covid-19 medical supplies from the Ministry of Health–Bangsamoro Autonomous Region in Muslim Mindanao (MOH-BARMM).

"We earlier wrote to the MOH-BARMM for the added equipment and supplies to increase our capacity in attending to Covid-19 cases and the regional health office responded quickly," San-Raiikin said Monday.

"We really need these life-saving equipment urgently considering the spike in Covid-19 cases in Marawi City and Lanao del Sur province recently," she added.

In December 2020, the APMC is also a recipient of five medical ventilators from the United Nations Development Program (UNDP) in the Philippines, in coordination with MOH-BARMM.

Meanwhile, MOH-BARMM Minister Dr. Latiph Bashary has committed to employing more nurses to APMC to address its workforce shortage on its Covid-19 facilities. "We will do it gradually," he said referring to the APMC workforce shortage.

As of May 22, the Bangsamoro Inter-Agency Task Force has reported 55 Covid-19 patients currently admitted at APMC, and 129 isolated patients in various temporary treatment centers in Lanao del Sur.

Last week, the MOH-BARMM deployed seven physicians and 148 new midwives in Lanao del Sur to boost healthcare services in the province. 
Philippine News Agency