By Teofilo Garcia, Jr.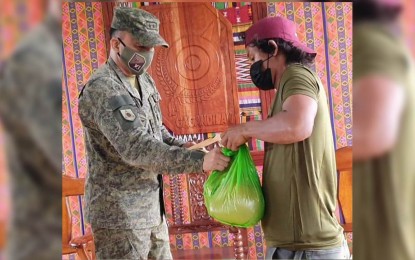 ---
ZAMBOANGA CITY: Sulu native Ibrahim Jul Uppih, 24, joined the Abu Sayyaf Group (ASG) in 2014 for lack of better things to do.
He lost interest in studying when he was 10 years old and in the second grade after his mother died.
He grew up a bum until his cousin enticed him to be a part of the ASG with the promise of a better life and steady income.
"Noong panahon kasi na 'yun, tambay lang ako. Tapos sabi ng pinsan ko sumama ako sa kanya sa Abu Sayyaf para kumita ng pera. Paminsan-minsan lang naman kami naabutan pero grabe ang paghihirap ko doon (I was a bum that time. My cousin then asked me to join him in the Abu Sayyaf. We were asked to join operations occasionally, we get paid sometimes, but it was really tough there)," he said in the vernacular during an interview.
He remembered being part of three clashes and serving as watchman of kidnap victims.
Uppih and seven other ASG members surrendered Thursday through a localized integration program of the 1101st Infantry Brigade in Sitio Bayog, Barangay Samak, Talipao, Sulu.
The other surrenderers were identified as Padding Padjiri, Abraham Alawara, Adzar Karun, Dansalan Jumadil, Sahadani Murani, Bulli Barri, and a certain Yasser.
They turned over three Garand rifles and two handguns.
Uppih was part of the group of Abduljihad "Idang" Susukan but escaped to Tawi-Tawi sometime in 2016 after sensing that the struggle was senseless.
The police arrested Susukan in the same year in Davao City.
Uppih's wife joined him in Tawi-Tawi, where they had three children. There, he made ends meet as a banana farmer.
Before his surrender, he constantly lived in fear because he knew the possibility that he may be hunted down by his former colleagues or reported to authorities.
Fortunately, one of his former companions, an alias Darius, was able to contact him and encouraged him to yield to authorities.
Darius is now a member of the Civilian Armed Force Geographical Unit Active Auxiliaries in Sulu.
Maj. Gen. William Gonzales, Joint Task Force Sulu commander, assured the ASG surrenderers that they will get the assistance they need to become productive members of the society again.
The surrender was facilitated by the 2nd Special Forces, 15th Civil Military Operations, and 100th Infantry Battalions.
Philippine News Agency