By Edwin Fernandez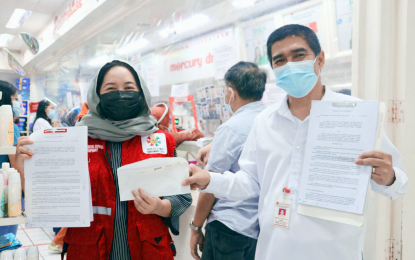 ---
COTABATO CITY: The Ministry of Social Services and Development (MSSD) in the Bangsamoro Region in Muslim Mindanao (BARMM) on Saturday turned over a check worth PHP1-million to the Mercury Drug Store here as an advance payment for medicine that indigent patients may withdraw from its branches.
MSSD-BARMM Minister Raisa Jajurie and Danilo Ulep, manager of the Mercury Drug Store main branch, signed the memorandum of agreement during a simple program held at the drug store's office.
With the high cost of medicines and the increasing number of indigent patients who cannot afford to buy prescription drugs, the MSSD-BARMM came up with the project, Jajurie said.
"The partnership between MSSD and Mercury Drug will enhance the mode of delivery of MSSD's Bangsamoro Critical Assistance in Response to Emergency Situations (Bangsamoro CARES) Program," she said.
Similar to MSSD's partnerships with various hospitals across the region, Jajurie said the partnership with pharmacies will expedite the processing since patients can immediately receive the medicines they need.
"With this partnership, the assistance intended for indigent patients can easily be acquired from the drug store," she said.
Patients or watchers who need assistance for the purchase of medicines may go to the MSSD's office and submit the doctor's prescription, which must include the date of issuance of the prescription, complete name, PRC license number, and signature of the attending physician.
The patient or the representative shall be interviewed and assessed by MSSD's social worker.
Once deemed qualified, a medicine request slip will be issued, which can then be brought to the pharmacy.
Jajurie said the MSSD shall eventually expand partnerships with other pharmacies across the BARMM. 
Philippine News Agency