By Noel Punzalan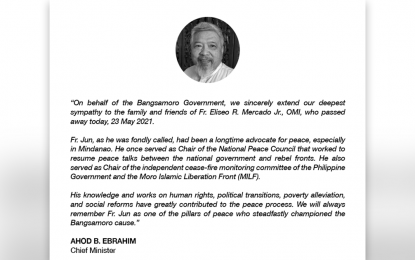 ---
COTABATO CITY: The Bangsamoro Autonomous Region in Muslim Mindanao (BARMM) has sympathized with the passing on Sunday afternoon of Catholic priest Fr. Eliseo Mercado, OMI, a veteran Mindanao peace advocate.

"On behalf of the Bangsamoro government, we sincerely extend our sympathy to the passing on May 23 of Fr. Eliseo Mercado," BARMM Chief Minister Ahod Ebrahim said in a statement released late Sunday.

Ebrahim said Fr. Jun, as Mercado was fondly called by many, was a longtime advocate for peace, especially in Mindanao.

Ebrahim recalled that Mercado once served as chair of the National Peace Council that worked to resume talks with the national government and the rebel fronts.

Mercado, according to the BARMM chief minister, figured prominently in the peace overture between the Government of the Philippines (GPH)–Moro Islamic Liberation Front (MILF), once serving as chair of the GPH-MILF independent ceasefire monitoring committee.

"His knowledge and works on human rights, political transitions, poverty alleviations, and social reforms have greatly contributed to the process," Ebrahim said.

Before his demise, Mercado was also president of Notre Dame University in this city.

He held a doctorate in Divinity and Humanity, and master's degrees in theology and philosophy, as he also completed work in Islamic studies and Arabic studies at the Gregorian University in Rome and at the Oriental Institute in Cairo, Egypt.

He also served as the Director for Justice, Peace & Integrity of Creation for the OMI based in Rome from 2003-2006.

Mercado died at the Cotabato Regional and Medical Center at 3:25 p.m. Sunday from cardiac arrest as he was completing his isolation due to coronavirus disease infection.

"We will always remember Fr. Jun as one of the pillars of peace who steadfastly championed the cause of the Bangsamoro people," Ebrahim said. 
Philippine News Agency