By Noel Punzalan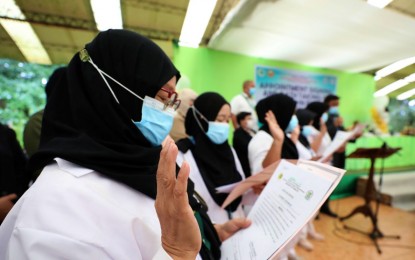 ---
COTABATO CITY: Seven medical doctors and 148 new midwives and were deployed in Lanao del Sur to boost healthcare services in the province, a top regional health official said Saturday.
Dr. Bashary Latiph of the Ministry of Health–Bangsamoro Autonomous Region in Muslim Mindanao (MOH-BARMM) said the midwives were hired under the Midwife in Every Community in BARMM (MECBA) project, while the physicians were employed through the Doctors to the Barrios (DTTB) program.
"The new workforce took their oath on Friday," the health minister said.
He added that 25 midwives will be deployed to the Marawi Health Office while the remaining 123 will be assigned to the different rural health units (RHUs) of Lanao del Sur.
The physicians, on the other hand, will be distributed to the doctor-less municipalities in the province.
"I'm very confident that the new workforce will deliver their responsibilities with minimal supervision," Latiph told reporters here in an interview.
He said more midwives and doctors will be hired for the BARMM island-provinces of Basilan, Sulu, and Tawi-Tawi, and also the 63 villages in North Cotabato composing the "special geographical area" of the region.
In a statement, BARMM Chief Minister Ahod Ebrahim congratulated the newly-appointed healthcare workers and thanked the MOH for facilitating yet another significant chapter in BARMM's collective dream of having a healthier Bangsamoro region.
"As midwives and doctors, you will become the living ambassadors of our sealed vision for health care in the region," Ebrahim said.
The MOH-BARMM targets to deploy a total of 600 community midwives throughout the region.
The MOH has earlier positioned 170 midwives to its regional office and the RHUs of Maguindanao province.
Philippine News Agency