By Ercel Maandig and Nef Luczon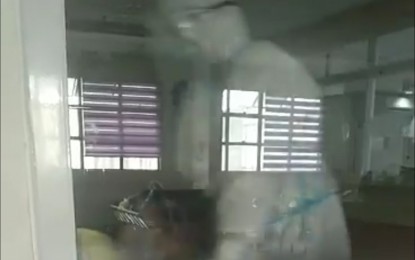 ---
CAGAYAN DE ORO CITY: Officials at the state-run Northern Mindanao Medical Center (NMMC) here on Friday announced that they are on "code red" following the surge of coronavirus disease 2019 (Covid-19) patients in their wards, urging the public to be vigilant and help curb the cases by following protocols.
 
A code red meant that most of the hospital's resources would be devoted to Covid-19 cases.

Dr. Gina Itchon, head of NMMC's  Research and Development, said the region's largest government-run medical facility raised its status because the utilization of Covid-19 facilities and resources has increased from 40 percent last month to the current 50 percent.
 
Itchon said private hospitals should step in by catering to more non-Covid patients to prevent the NMMC from being overburdened.

She noted that cases are not showing any sign of decrease as the virus rapidly infects more people, based on hospital data.
 
NMMC's highest Covid-19 admission rate occurred in October last year when it catered to 182 patients.

In contrast, Itchon said the hospital's Covid-19 ward, currently admits 234 patients as of May 19.
 
Dr. Bernard Julius Rocha, NMMC liaison officer, said the current 50 percent capacity meant that more resources and workforce are being devoted to Covid-19 response and less on other medical cases.

Worse, Rocha said NMMC's supply of anti-viral drugs remdesivir and tocilizumab are limited.
 
Meanwhile, Mayor Oscar Moreno welcomed NMMC's decision, saying it could be a "game-changer for the city and the whole region" in terms of intensifying the Covid-19 response.

Most admitted patients in NMMC are residents of this city.
Philippine News Agency