By Noel Punzalan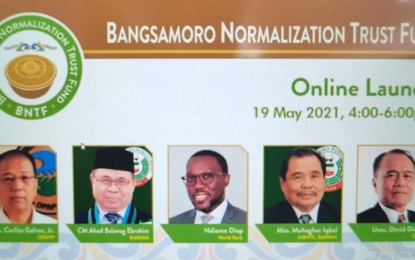 ---
COTABATO CITY: The Office of the Presidential Adviser on the Peace Process (OPPAP) and the Moro Islamic Liberation Front (MILF), in partnership with the World Bank (WB), have jointly established the Bangsamoro Normalization Trust Fund (BNTF).

"The BNTF launching is a success, we are on the right track," Bangsamoro Autonomous Region in Muslim Mindanao Chief Minister Ahod Ebrahim, concurrent MILF chairman, told reporters here Friday.

Ebrahim said in an online meeting on Wednesday evening, OPAPP, WB representatives and officials of the MILF-led BARMM witnessed the signing of the declaration of commitment on the BNTF between the Government of the Philippines (GPH) and himself.

"The GPH and MILF joint implementing panels have chosen the WB as the international administrator of the trust fund," Ebrahim said.

The creation of the BNTF was mutually agreed by the GPH and MILF in the Annex on Normalization of the Comprehensive Agreement on the Bangsamoro (CAB), which both parties signed on January 25, 2014.

The BNTF aims to assist MILF combatants and their communities achieve their desired quality of life peacefully and inclusively.

It also seeks to aid in the development of six acknowledged MILF Camps with the end view of transforming these areas into peaceful and productive communities, Ebrahim said.

He said the BNTF will also finance, coordinate and oversee the delivery of assistance from international partners and other donors in the implementation of the normalization process, particularly for development efforts and the rehabilitation, reconstruction, and development of Bangsamoro communities and other vulnerable sectors across BARMM.

OPAPP Secretary Carlito Galvez Jr. pointed out that coronavirus disease (Covid-19) pushed back the normalization programs for the BARMM.

"During these trying times, we need to have a synergy and complementation so that we can overcome these trials along the way and continue to build the gains of the Bangsamoro peace process," Galvez said during the online meeting.

OPAPP Undersecretary David Diciano, meanwhile, said Wednesday's event is not purely a trust fund for the sake of financing but it is the embodiment of the continuous commitment of GPH-MILF, and the international communities to the full implementation of CAB.

On the other hand, Ebrahim recognized the support of international partners and stressed the importance of fulfilling the political and normalization tracks to ensure the success of the peace process.

"We take on another significant milestone that assures the GPH and MILF will continue providing necessary efforts in normalizing our combatants and their respective communities," he said.

Ndiamé Diop, the WB Country Director for Brunei, Malaysia, the Philippines, and Thailand also expressed his commitment to BNTF, stressing that eradicating poverty and assuring long-term progress in the entire country also depends on the development of the BARMM. 
Philippine News Agency