By Edwin Fernandez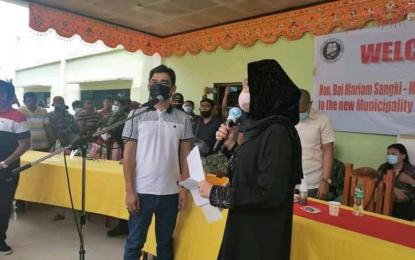 ---
TALITAY, Maguindanao: Controversy continues to hound the local government here after a caretaker-mayor was appointed by the provincial government of Maguindanao, rejecting the argument of Bangsamoro Autonomous Region in Muslim Mindanao (BARMM) officials that it was illegal under the local government code.

Maguindanao Governor Bai Mariam Sangki-Mangudadatu installed Talitay town councilor Fahad Midtimbang Monday as caretaker-mayor after several incidents led to vacancies in recent weeks.

Midtimbang is the president of the Association of Barangay Chairperson (ABC) and sits as an ex-officio member of the town council.

Lawyer Naguib Sinarimbo, BARMM's minister of the interior and local government, said the law of succession applies in the case of Talitay where the natural and permanent vacancy occurred.

"A permanent vacancy occurred and there's no required action for the vice mayor to wait for his designation, that is automatic by force of law," Sinarimbo said.

Vacancies occurred when Talitay elected Mayor Allan Sabal was assassinated in a hotel in Manila last year that resulted in Vice Mayor Montasir Sabal assuming as mayor. The elected number one councilor, Moner Sabal, assumed as vice mayor based on the local government code.

However, Montasir Sabal resigned, and by force of law, according to Sinarimbo, Moner Sabal, the acting vice mayor, must assume the town mayorship.

But Odjie Balawan, Maguindanao provincial administrator, insisted that a vacuum in the town leadership occurred when no officials have taken the posts to lead the local government.

"Ask the people of Talitay who is their mayor, who is their vice mayor, nobody has answers because there was a vacuum," Balayman said in the vernacular, adding that the Office of Governor Mangudadatu was not duly informed of the new leadership.

Balayman said there was a vacuum of leadership in Talitay for two months and so the governor named Midtimbang as caretaker-mayor.

He cited a police report that no town officials have assumed office since March 22 and the vice mayor (Moner Sabal) did not assume office.

Efforts to reach Moner Sabal proved futile as the controversies continue.

Police and soldiers have been deployed in the town to maintain law and order.
Philippine News Agency