By Che Palicte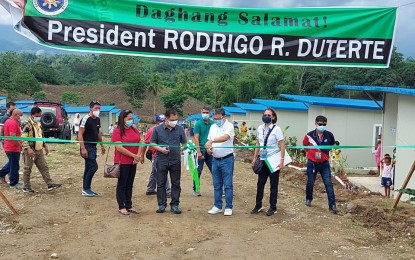 ---
MAGSAYSAY, Davao del Sur: The National Housing Authority in Region 11 (NHA-11) turned over at least 240 permanent housing units in Barangay Balnate here Monday.

In an interview, Mayor Arthur Davin said the 240 family-beneficiaries were prioritized because their homes are situated in a "no-build zone or danger zone," based on the assessment of the Mines and Geosciences Bureau (MGB).

Davin said the recipients were affected by the series of earthquakes in July and December in 2019.

"Finally, they are relocated, because last time they are very hesitant to leave their houses," he said.

NHA General Manager Marcelino Escalada Jr. said the housing units "were given by President Duterte for free. The materials of these houses are made from Korea and it is durable. We also give 1,000 liter-capacity overhead tank plus solar panel."

Each unit costs PHP280,000 and has a floor area of 27.50 square meters and a lot area of 72.25 square meters.

"There are also recommendations that we will be putting up a two-story school in Brgys. San Miguel, Balnate, Malawanit, and Upper Bala worth PHP40 million each," Escalada added.

He also reminded the beneficiaries to consult with the municipal government as well as NHA should they decide to add extensions to their units.

"I will allow that if you use hollow blocks, but this technology is modular therefore it's is hard and dangerous if you put an extension without a clearance from the municipal government and NHA," he said.

Escalada said NHA will also propose to put up a wet and dry market as well as a mini-grocery store adjacent to the housing units.

Marilou Abing, one of the beneficiaries, thanked the national government for giving her family the opportunity to own a house.

"We have been staying at the temporary shelter for six years. If not for them [government], we cannot acquire these houses. It is indeed a gift from God," Abing said in the vernacular.

Barangay Tagaytay Kagawad Eduardo Mangalin also thanked the local government and NHA for the project, calling it a "dream came true."

Meanwhile, NHA-11 Acting Manager Sonia Bulseco said a total of 2,002 permanent housing units amounting to PHP573 million were allotted to Magsaysay town.

"Of the number, 953 were already completed. Some of it is already given to the beneficiaries and some are set to be turned over," she said, adding that the housing units would be completed in August this year.
Philippine News Agency