By Edwin Fernandez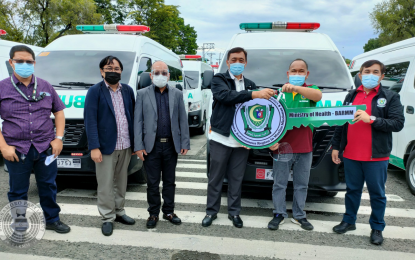 ---
COTABATO CITY: Twenty local government units and health stations across the Bangsamoro Autonomous Region in Muslim Mindanao (BARMM) received ambulance units from the region's Ministry of Health (MOH) and members of Bangsamoro Transition Authority (BTA), officials said Wednesday.

Health Minister Bashary Latiph said Tuesday's distribution of the new ambulance units was realized through the Transitional Development Impact Fund (TDIF), a lead project of the BTA that assists identified beneficiaries.

Latiph said ambulance services would improve the region's emergency medical response system.

"It includes transporting the patient from the incident site to the emergency room of the receiving hospital for definitive care, transferring the patient to another hospital for further diagnosis and treatment purpose, rendering emergency medical care and life support to sustain the stability of the patient in transit to and from the hospital," he said.

In the past, Latiph noted that some people in emergencies were unable to reach the hospitals in time due to lack of transportation.

"It is then a necessity that we take action and relieve our people from this problem," he said.

Under the same project, BTA Speaker Pangalian M. Balindong said parliament members also extended medical assistance to the Cotabato Regional and Medical Center in this city, distributed kits to barangay health workers, and provided medicines to far-flung towns in Sulu province.
Philippine News Agency