By Judy Quiros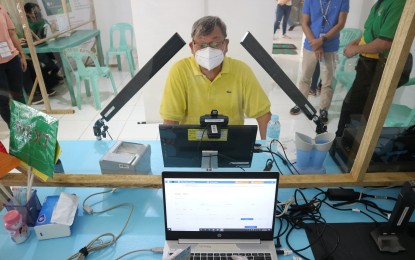 ---
DAVAO CITY: The Philippine Identification System (PhilSys) received overwhelming support for the Step 1 online registration program despite the technical issues that marred its pilot implementation on April 30.
"The Philippine Identification System online Step 1 Registration was well received by the public, with many expressing support for the program, despite technical issues during its pilot launch last 30 April 2021," the Philippine Statistics Authority (PSA), the main implementer of PhilSys, said in a statement on Saturday.
The agency said while there were those who did not understand the predicament the system faced on its first day of operation, there are registrants who understood system glitches, based on their Facebook comments.
Jenner Ladores, a registrant, wrote in a comment: "Kudos PhilSys Team! May (There are) glitches and other issues sa simula (at the start) but the goal is really nice. Hopefully maging (everything will be) ok na soon. Progress is never perfect and easy. Laban lang (Fight)!"
"This is expected. Hindi lang naman (There weren't just) 1,000 registrants ang maglo-log in or gagamit ng (who will log in or use the) site. Magandang (It's a good) stress test sa (for the) system para maayos 'yung (so they can fix) lapses and gaps," Joni Krabbe-Cañete wrote.
Registrant Ogie Camat commended PSA for the "good kind of problem. That means it has drawn public interest. Nevertheless, it is a milestone."
A post from user Davao Construction on May 7 said online registration takes no more than three minutes and posted the PSA instructions.
PSA said it continues to make improvements in the PhilSys website to accommodate more registrants and make the experience easier.
"PSA appreciates the public's interest in the PhilSys and requests for more patience and understanding from Filipinos as the agency continuously improves the website," the statement read.
Online
PSA decided to embark in online registration for Step 1 to minimize face-to-face and house visitation and interview by PhilSys enumerators amid the continuing threat of coronavirus.
Nonetheless, PSA will not prohibit face-to-face registration for Step 1 in Covid-19 low-risk areas.
PSA started Step 1 registration in October last year, reaching more than 34 million as of last count.
Of the total, about 6.4 million have already completed Step 2.
PSA delivered 956 Philippine Identification (PhilID) cards, the first batch, via Philippine Post on the first week of May.
The agency reiterated delivery is free.
Step 2 registration involves the capture of biometric data such as iris scan, fingerprint scan, and front-facing photographs at registration centers.
The last step is the issuance of the PhilID with the PhilSys Number, a randomly generated number that will serve as a permanent identification number.
Signed into law by President Rodrigo R. Duterte in August 2018, Republic Act 11055, or the Philippine Identification System Act, aims to establish a single national ID for all Filipinos and resident aliens.
The national ID shall be a valid proof of identity that shall be a means of simplifying public and private transactions, enrollment in schools, and the opening of bank accounts.
It will also boost efficiency, especially in dealing with government services where people will only need to present one ID during transactions. 
Philippine News Agency