By Edwin Fernandez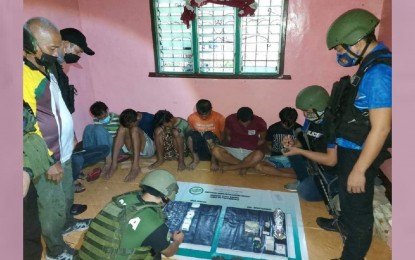 ---
COTABATO CITY: Anti-narcotics agents, backed by troopers of the Philippine Marines, killed a suspected drug dealer and arrested 15 others during three separate anti-drug operations in Lanao del Sur, an anti-narcotics official here reported Saturday.
Director Juvenal Azurin of the Philippine Drug Enforcement Agency – Bangsamoro Autonomous Region in Muslim Mindanao (PDEA-BARMM) said the operations were launched in the town of Picong on Friday afternoon.
"Concerned town residents informed us about the activities of drug syndicates in their coastal town of Picong so we set up the operation," Azurin said.
He noted that the operatives of PDEA-BARMM, the 5th Marine Battalion Landing Team, and the Criminal Investigation and Detection Group carried out the operation targeting three drug syndicates.
In one of the operations, he said, a suspected drug peddler was killed after a shootout with the lawmen.
Azurin identified the slain suspect as Kareem Usop Abedin who fired at operatives with an M16 rifle, from his home in Barangay Kabaturan.
Arrested in the same operation were Jerry Toma, Liya Dimaampao, Ansano Ampuan, Amrudin Sarip, Aminodin Ditucalan, Samsudin Itaw, and Libot Dimaampao.
"They peacefully surrendered to authorities during the 4 p.m. law enforcement operation," Azurin said.
Seized from them were 23 sachets of suspected shabu and two M16 assault rifles.
He said two police officers, identified only as Patrolmen Habiling and Nicolas, were slightly injured during the conduct of the operation.
In a separate raid, PDEA and Lanao del Sur police arrested eight men, identified as Alioden Buale, Gorbani Bitucalan, Jomar Pagayawan, Samin Abdillah, Bokari Dagu, Asrap Dimampa, Jasser Baguan, and Jomar Abdul.
Brig. Gen. Eden Ugale, BARMM police director, said state forces seized 58 sachets of suspected shabu and a hand grenade from a drug den in Barangay Kabaturan.
In a third raid, PDEA agents missed suspected drug dealer Camar Mauyag who managed to escape but several sachets of suspected shabu items were found in his house.
"We appreciate the information shared by civilians in the villages that led to these successful operations," Azurin told reporters here. 
Philippine News Agency