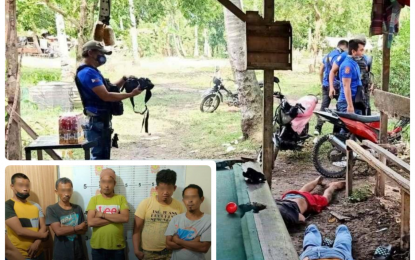 ---
COTABATO CITY: Police officers implementing anti-gambling laws in Datu Odin Sinsuat, Maguindanao stumbled upon suspected drug pushers and seized high-powered firearms in a remote village in the area.
"Villagers complained of disturbances, especially during this time of the fasting month so we responded," Maj. Esmael Madin, chief of the police's Criminal Investigation and Detection Group in the Bangsamoro Autonomous Region (CIDG-BARMM), told reporters here Thursday.
He said civilians in the village of Kiram have alerted authorities about an ongoing gambling activity around 4 p.m. Wednesday prompting them to check on the report.
Madin identified the suspects as Kevin Gogo, 39, Al-Muslimin Lauban, 33, Recto Mindalbus, 50, Mohammad Usman, 24, and Bagundang Hadji Salik, 29, all residents of the village.
"We only enforce anti-gambling law," Madin said of the law enforcement operation. "But while we were conducting accounting of items seized from them, we found firearms, bullets, and suspected shabu."
Seized from the suspects were an M14 rifle, an M16 rifle, ammunition, small packets of shabu, and other drug paraphernalia.
The suspects are now detained at CIDG-BARMM lock-up facility in this city pending the filing of charges against them. 
(PNA/SRNY/TRS)