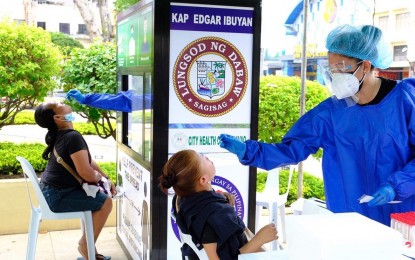 ---
DAVAO CITY: The Public Safety and Security Command Center (PSSCC) had apprehended 79 passengers who presented falsified reverse transcription-polymerase chain reaction (RT-PCR) test results upon arriving at the Davao International Airport (DIA).
PSSCC chief Angel Sumagaysay, in a statement Saturday, again reminded passengers to only get themselves swab tested in hospitals and testing laboratories.
The apprehensions were as of the April 17 data.
Early this month, Mayor Sara Duterte has informed the public that apart from incurring a criminal offense, presenting a fake RT-PCR will also cost the offender more.
Fake RT-PCR result ranges from PHP 1,000 to PHP2,000 and if caught, the passenger will be required to get an RT-PCR test at the DIA worth PHP4,500.
The inquest bail is between PHP6,000 and PHP40,000.
"If you present fake RT-PCR result at the airport, you will be detained, you will pay fine or bail out and you have to also pay for a lawyer. You will pay a total of PHP46,500," Duterte added.
City Tourism Operations Office head Gene Rose Tecson said Davao-bound flight passengers get fake RT-PCR test results from different dubious testing centers.
"They were scammed and most forged test results are from Red Cross and just recently, from Lord's Grace (in Pasay). Those without QR (quick response) codes are fakes. There were also falsified test results coming from Cebu, from the University of Cebu Medical Center and Central Visayas Lab. Even Zamboanga also had fake RT-PCR test results," she said.
She also said there were a few cases where flight passengers got their RT-PCR test results from a laboratory in Cubao, Quezon City for PHP3,800 only to find out that it is fake upon arriving at DIA.
"Be wary if the RT-PCR test is cheap. They should be swabbed in legitimate hospitals and medical laboratories. If they are only referred by a taxi driver who tells them of a faster way to get swab results, they should be wary of it," Tecson added.
The test-before-travel requirement for all Davao-bound flight passengers is in accordance with City Ordinance 0477-21, Series of 2021, or the ordinance providing for mandatory testing before entry into the city via DIA.
(Prexx Marnie Kate Trozo/PNA/SRNY/TRS)