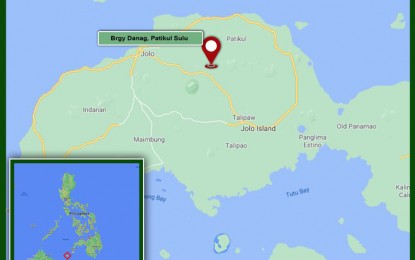 ---
ZAMBOANGA CITY: An Abu Sayyaf Group (ASG) bandit was killed in a clash Tuesday amid the focused military operation in Sulu province, military officials said.

Lt. Gen. Corleto Vinluan Jr., commander of the Western Mindanao Command (Westmincom), said the troops under the Joint Task Force (JTF)-Sulu were conducting a combat operation when they clashed with a group of followers of ASG leader Mudzimar Sawadjaan around 7:23 a.m. in Barangay Danag, Patikul, Sulu.

"We have gained grounds so we are sustaining the momentum to possibly neutralize all the remaining terrorists in Sulu," Vinluan said.

Maj. Gen. William Gonzales, JTF-Sulu commander, said the troops launched a combat operation after receiving a report that ASG members were sighted in the area.

Gonzales said the 15-minute running gun battle resulted in the death of an ASG bandit, while the remaining terrorists scampered in different directions.

Col. Benjamin Batara Jr., the Army's 1102nd Infantry Brigade commander, said the troops recovered the remains of the slain ASG member and brought them to Camp Teodulfo Bautista Station Hospital for identification.

Since January this year, a total of 84 ASG members were neutralized in Sulu seven of which were killed, 70 surrendered, and seven arrested. 
(Teofilo Garcia, Jr./PNA/SRNY/TRS)