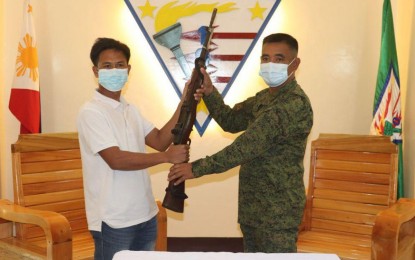 ---
ZAMBOANGA CITY: The number of Abu Sayyaf Group (ASG) surrenderers in Basilan province has increased to 11 since January this year after another bandit surrendered to military authorities, Army officials said Monday.
Lt. Gen. Corleto Vinluan Jr., commander of the Western Mindanao Command (Westmincom), said the intensified non-combat operations of the military units in Basilan led to the surrender Sunday of Abdul Asnulan Akil alias Abz, a resident of Barangay Kamamburingan, Ungkaya Pukan municipality.
Vinluan said that Akil is a follower of the notorious Basilan-based ASG leader Radzmil Jannatul, alias Khubayb.
He said that Akil yielded a US-made caliber .30 M1 Garand rifle with 18 live ammunition.
Brig. Gen. Domingo Gobway, Joint Task Force (JTF)-Basilan commander, said Akil has a standing warrant of arrest for murder. He was allegedly involved in the April 22, 2018 beheading of four civilians in Barangay Kamamburingan, Ungkaya Pukan.
"His surrender is attributed to our peace efforts facilitated by the different intelligence units here in Basilan," Gobway added.
Akil is currently undergoing custodial debriefing at the headquarters of the 101st Infantry Brigade and JTF Basilan in Barangay Tabiawan, Isabela City, the capital of Basilan province.
He will subsequently be turned over to Basilan Provincial Police Office for proper disposition.
During the initial debriefing, Akil said he suffered starvation while evading the government forces, according to Gobway.
"He is happy that he now has a chance to start anew and live in peace," he said.
"We hope that those who remain in hiding will follow the footsteps of Akil. Rest assured that we will give our full support during their reintegration process," Vinluan said.
(Teofilo Garcia, Jr./PNA/SRNY/TRS)