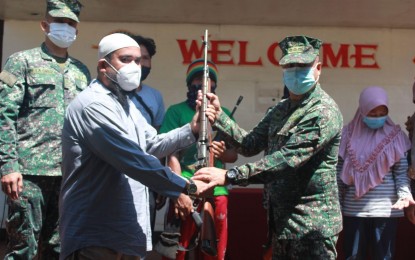 ---
ZAMBOANGA CITY: Four Abu Sayyaf Group (ASG) members and six of their supporters surrendered to the military authorities in Sulu, officials announced Saturday.
Lt. Gen. Corleto Vinluan Jr., commander of the Western Mindanao Command (Westmincom), said the 10 surrendered on Friday at the headquarters of the Marine Battalion Landing Team-1 (MBLT-1) in Barangay Seit Lake, Panamao town.
The surrender was made possible by concerted efforts of the MBLT-1, intelligence units, municipal government, and other law enforcement agencies.
Lt. Col. Marvin Salvan, MBLT-1 commander, identified the four ASG members under sub-leader Sansibar Bencio as Makkin Salidin, 28; Idjo Abduraja, 32; Haris Jul, 35; and, Raham Saddih, 37.
They yielded three M-16 Armalite rifles, one M-14 rifle, one caliber .45 pistol, magazines, and other ammunition.
The six supporters were Bencio's wife, Marissa Marajan, 35, and his mother, Maybat Saliddin, 60; Armilyn Abduraja, 20, wife of an ASG member identified as Sikal Hussein; Arsalyn Abduraja, 17; Parida Abduraja, 22; and, Mussah Abduraja Saddih, 28.
They turned over a Garand rifle.
After debriefing, they were brought to Panamao District Hospital for checkup. They will then be turned over to their village councils.
(Teofilo Garcia, Jr ./PNA/SRNY/TRS)