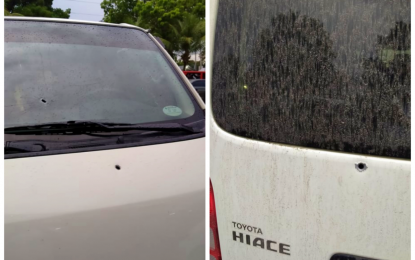 ---
COTABATO CITY: Two persons were hurt when unidentified gunmen ambushed them along the national highway here despite the presence of commuters and motorists, the city police reported Wednesday.
Col. Rommel Javier, city police director, identified the victims as Anas Naga, 38; and Amer Diocolano, 36; who were onboard a white Toyota Hiace van heading to Barangay Tamontaka 3 when the ambush occurred at around 4 p.m. Tuesday.
"Two gunmen on a motorbike opened fire at them using .45 caliber pistols and quickly sped away," Javier said.
Both victims sustained bullet wounds in different parts of the body.
Naga managed to drive the vehicle to the Cotabato Region and Medical Center.
In a phone interview on Wednesday, Naga told a local radio station that he saw the gunmen but could not identify their facial characteristics since they wore face masks and bonnets.
"What happened next is that they were firing on us," he said in the vernacular.
Javier said police investigators are still trying to establish a lead on the identities of the perpetrators and the motive of the attack. 
(Edwin Fernandez/PNA/SRNY/TRS)