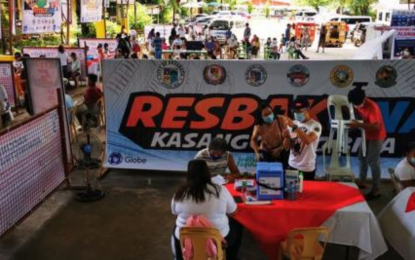 ---
COTABATO CITY: Health authorities here have started the inoculation of some 21,0000 senior citizens here that included 102 Mecca-bound pilgrims for this year to Mecca, Saudi Arabia.
Dr. Meyasser Patadon, city health office (CHO) chief, said Thursday the vaccination rollout for the elderly will run until Sunday.
"We have ample Sinovac vaccines for our senior residents courtesy of the national government," he said.
Aside from the city's vaccination hub situated at the CHO compound, inoculation against coronavirus disease (Covid-19) will also be conducted at the gymnasiums of seven of the city's public schools.
"This is to maintain minimum health protocols including social distancing," Patadon said.
Among those who lined up for the vaccination was Emergancia Diaz, 85, who was in a wheelchair.
She survived Covid-19 when last year after she tested positive for the disease.
Her husband Quintin, 86, had shown symptoms of the disease and also survived.
"We are so happy that we have now the protection against Covid-19," she said.
The couple was among the recipients included in the A2 priority list of the population group in the city.
Meanwhile, 70-year-old Danilo Roldan, said he wants to get vaccinated to have peace of mind.
"I'm not getting any younger, I have comorbidities so I grab this offer from the government," he said. "I feel good now."
As for the Mecca-bound pilgrims, Patadon said the National Commission on Muslim Filipinos has required all pilgrims from the Philippines to undergo vaccination before joining the annual Hajj.
Saudi Arabia's Ministry of Hajj and Umrah said only "immunized people" will be granted permits to perform Umrah as well as prayers in the Grand Mosque in Mecca. 
(Edwin Fernandez/PNA/SRNY/RSP)