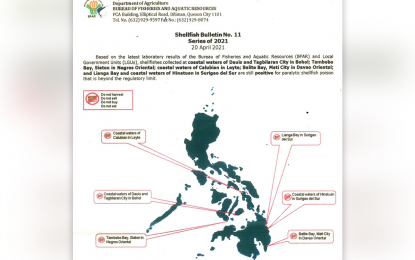 ---
BUTUAN CITY: The Bureau of Fisheries and Aquatic Resources in Caraga Region (BFAR-13) said coastal waters in the Surigao del Sur towns of Lianga and Hinatuan are still positive for paralytic shellfish poison.

In a statement Wednesday, BFAR-13 said the findings are based on the laboratory test by the agency on shellfishes collected in the area.

"All types of shellfish and Acetes sp. or alamang gathered from the areas shown above are not safe for human consumption," the BFAR-13 warned.

The agency said fish, squids, shrimps, and crabs are safe for human consumption provided that they are fresh and washed thoroughly, and internal organs such as gills and intestines are removed before cooking.

BFAR-13 said it has coordinated with the concerned local government units in Surigao del Sur to disseminate the red tide advisory.
(Alexander Lopez/PNA/SRNY/RSP)