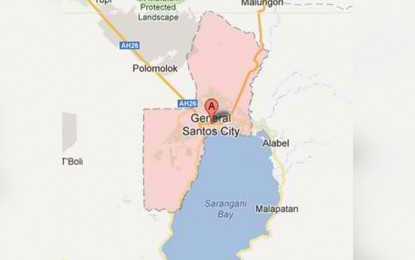 ---
GENERAL SANTOS CITY: Two drug pushers were killed while three others were arrested in separate operations here early Wednesday.
The two suspects were slain in encounters with police operatives in Barangays Bula and San Isidro after reportedly resisting arrest while the three others were nabbed in Barangays Lagao and Dadiangas East, police reports said.
Capt. Abdulsalam Mamalinta, acting chief of city Police Station No. 6, said a brief firefight ensued during a buy-bust around 12:50 a.m. on Royeca Avenue in Bula after a suspect identified only as alias "Jojo" fought back and tried to escape.
"He drew a handgun and fired toward the operating team so they were forced to retaliate," he said.
The suspect was fatally wounded in the exchange and declared dead upon arrival at the Dr. Jorge P. Royeca Hospital (DJPRH).
Recovered at the scene were a homemade .38 caliber revolver, a fired cartridge and three live bullets, the buy-bust money and 22 sachets of suspected shabu weighing 1.580 grams valued at PHP18,328.
In Barangay San Isidro, another suspected pusher, Milanio Ampo alias "Junjun", was killed in a brief firefight with the police around 1:30 a.m. at a portion of the diversion road.
A report from the station said the suspect resisted arrest during a buy-bust and engaged the operating team in a shootout using a .38 caliber revolver.
Ampo, who sold a sachet of suspected shabu worth PHP500, was wounded in the process but declared dead upon arrival at the DJPRH.
In another operation in Barangay Lagao, Adrian Alincomot Cabañog alias "Yan-yan," 32, was nabbed around 12:05 a.m., after selling a sachet of suspected shabu worth PHP500 to a police officer who posed as a buyer.
Maj. Yol Hilado, chief of city police station number 3, said Cabañog's arrest led to the capture around 2:20 a.m. of two other suspects on Champaca Street in Barangay Dadiangas East.
They were identified as Jose Rabino Asotilla Jr. alias "JR," 32, of Barangay Zone 3 in Digos City and Rolito Aguhob Malazarte alias "Yok," 30, of Purok 7, Barangay Poblacion in Sulop, Davao del Sur.
He said the two "connived" to sell a sachet of shabu worth PHP500 to an undercover intelligence operative.
"The three are members of a band and mainly use shabu before they perform but appeared to have resorted to selling them," Hilado said in an interview.
He said the three would be charged with violation of Sections 5 and 11 or selling and possession of dangerous drugs, under Article II of Republic Act 9165, the Comprehensive Dangerous Drugs Act of 2002.
(Richelyn Gubalani/PNA/SRNY/RSP)